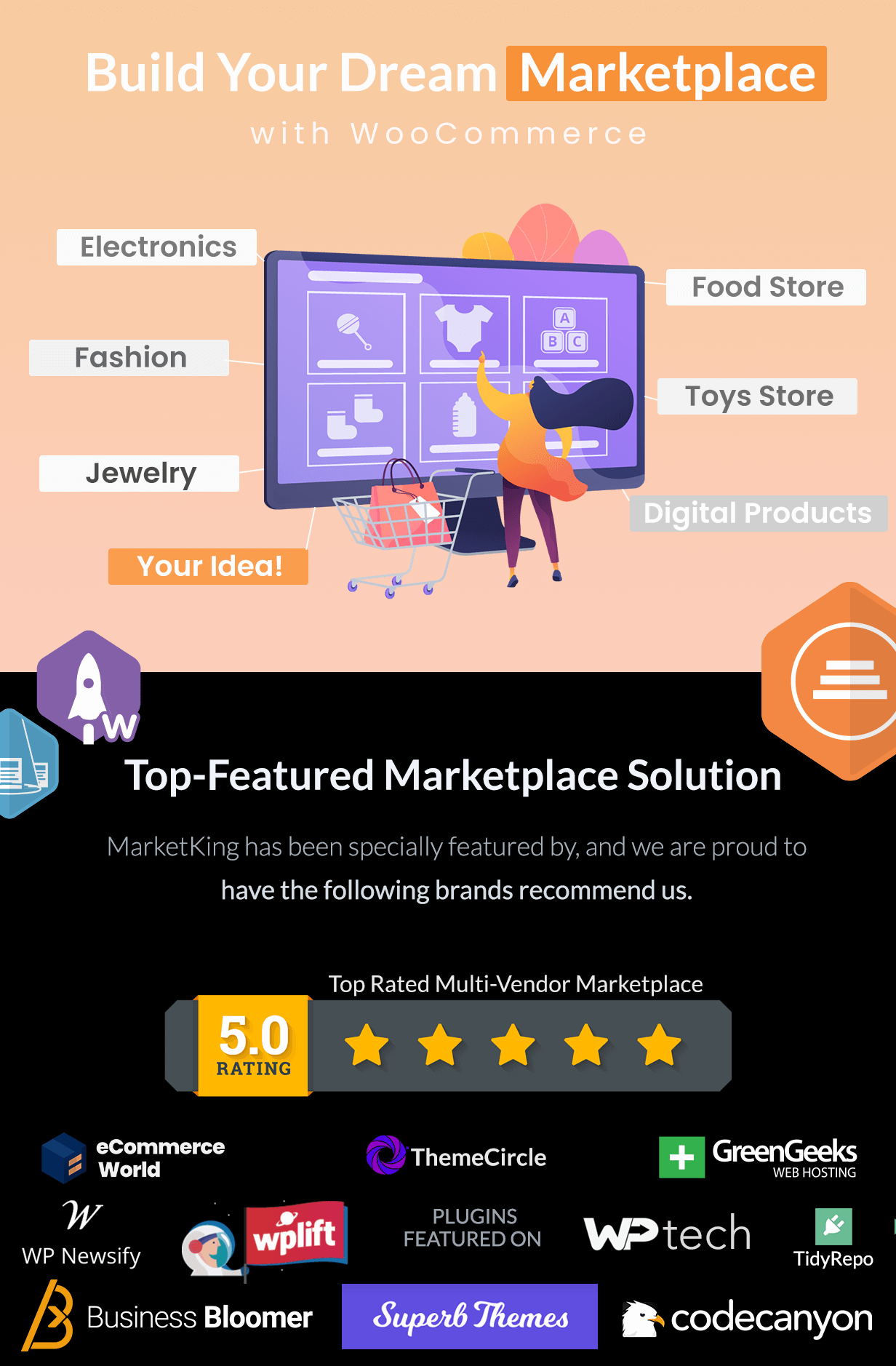 MarketKing - #1 WooCommerce Multivendor Marketplace Solution
MarketKing is the
ultimate multi-vendor marketplace solution for WooCommerce
, with everything you need to set up your dream marketplace.
Grow a thriving marketplace business, while earning commission and subscription fees. Whether you're building a marketplace for
fashion items, foods, arts, toys, jewelry, electronics or even digital software downloads, MarketKing can do it all!
There are
137+ features and modules
, plus dozens of integrations: a powerful seller dashboard, branded vendor invoices, a complex commissions system, seller registration, single product multiple vendors, badges, seller staff, earnings reports, and so much more!
137+ Features. Incredible Value.
MarketKing is a
simple to use, yet incredibly powerful
plugin, with one of the
richest feature sets
of any multivendor plugin. There are features such as:
and many more
advanced, powerful features
, ideal for multivendor stores:
Stunning Designs and Proprietary Systems
MarketKing was built from the ground up with unique designs and proprietary systems. A stunning,
modern vendor dashboard
will impress your sellers, whereas our unique
MarketKing Cart system
(cart is split by vendor) makes ordering smooth and easy for your customers.
1-Minute Animated Video Explainer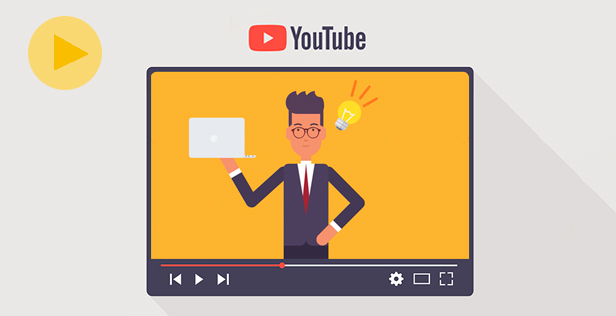 Overview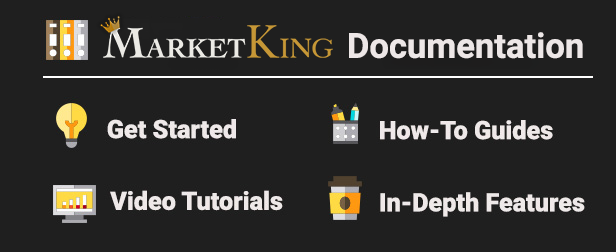 Theme Compatibility
MarketKing is built to be compatible with any WooCommerce theme and we have tested it with some of the most popular themes on the market today:
Flatsome, WoodMart, Shopkeeper, Avada, Divi, Porto, XStore, The Retailer, Electro Electronics, MayaShop, Savoy, Basel, Atelier, Mr. Tailor, Aurum, Storefront
and others.
Plugin Compatibility
Here are some of the plugins we know MarketKing to be compatible with:
For more info, see our
compatibility article
and documentation.
Have a Pre-Sales Question?
Contact our support team.
Please
submit a ticket
to the "MarketKing Pre-Sales Questions" category.
Live Demo
Electronics Marketplace - Electro Theme
Backend (Admin) demo:
https://demomk.wpbay.co/wp-admin
Vendor Dashboard demo:
https://demomk.wpbay.co/vendor-dashboard
Customer and Shop demo:
https://demomk.wpbay.co/my-account
More demos available at:
https://demobk1.wpbay.co/marketking-demos/
MarketKing - Feature Details & Showcase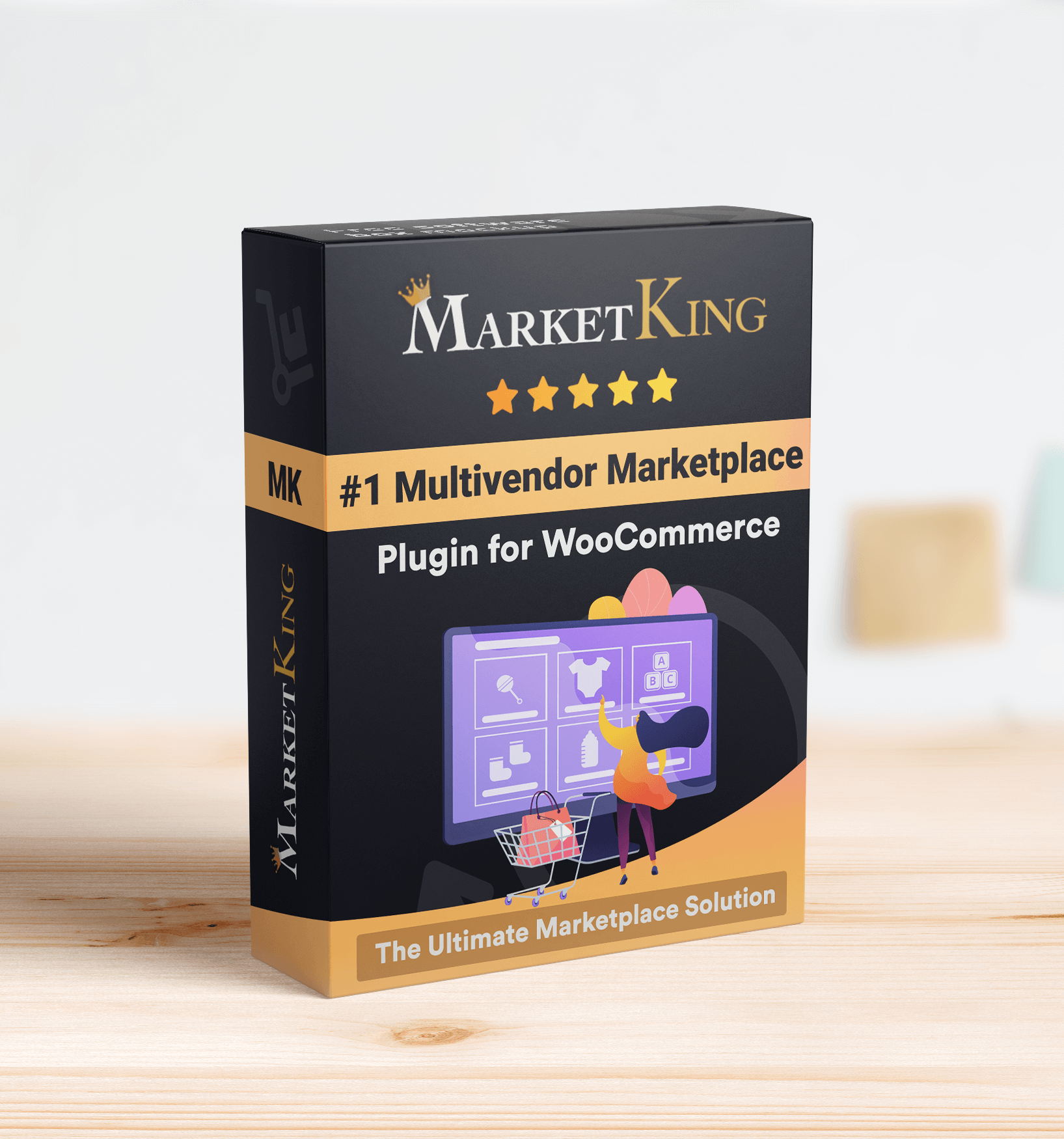 Premium Vendor Dashboard
Powerful modern, full-screen
vendor dashboard
with dozens of features, panels and settings. Dashboard is independent of theme and looks on all sites like in our demo. Vendors can manage everything from products, coupons and orders, to earnings, refunds, invoice settings, email notifications, & more: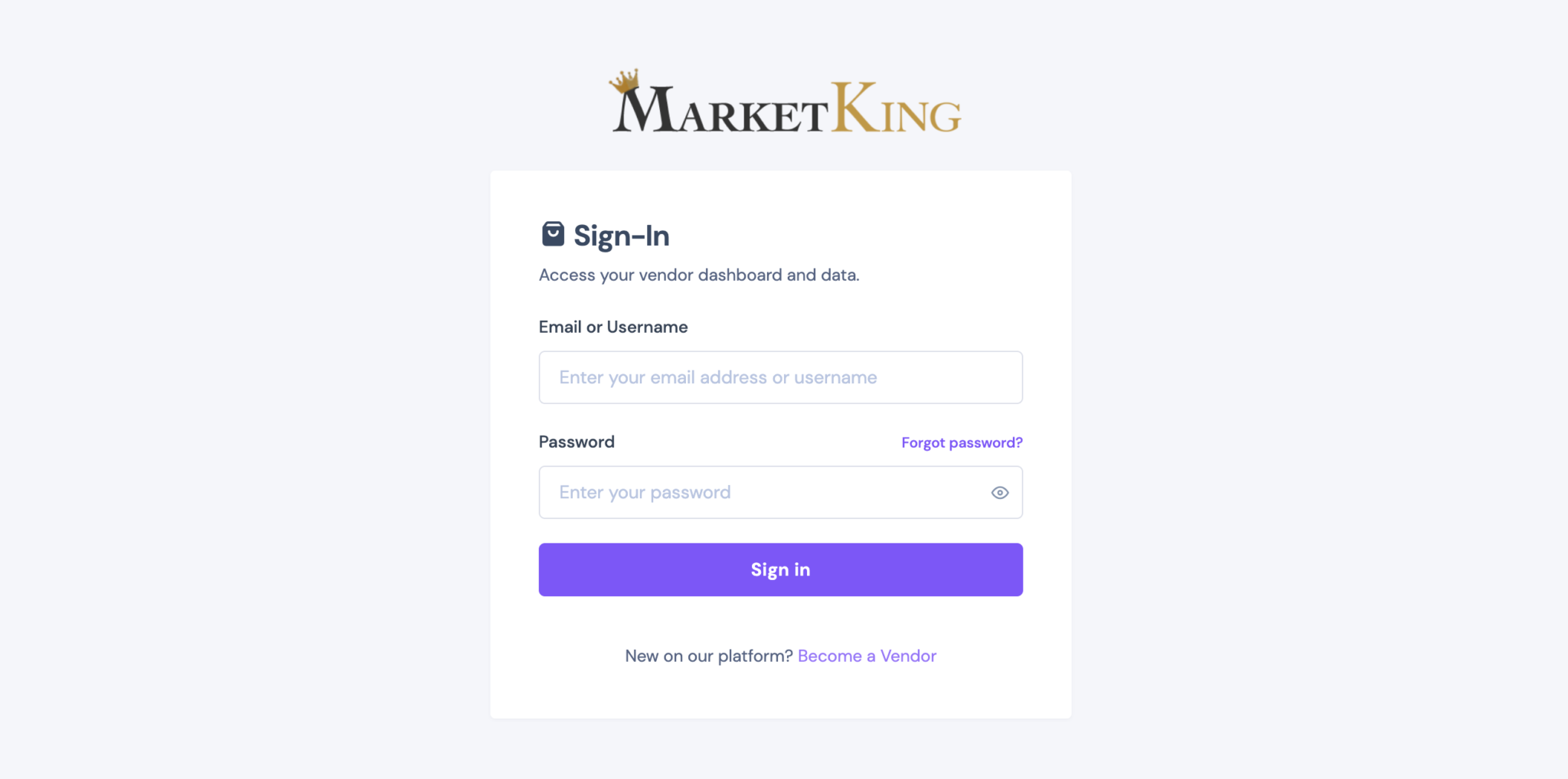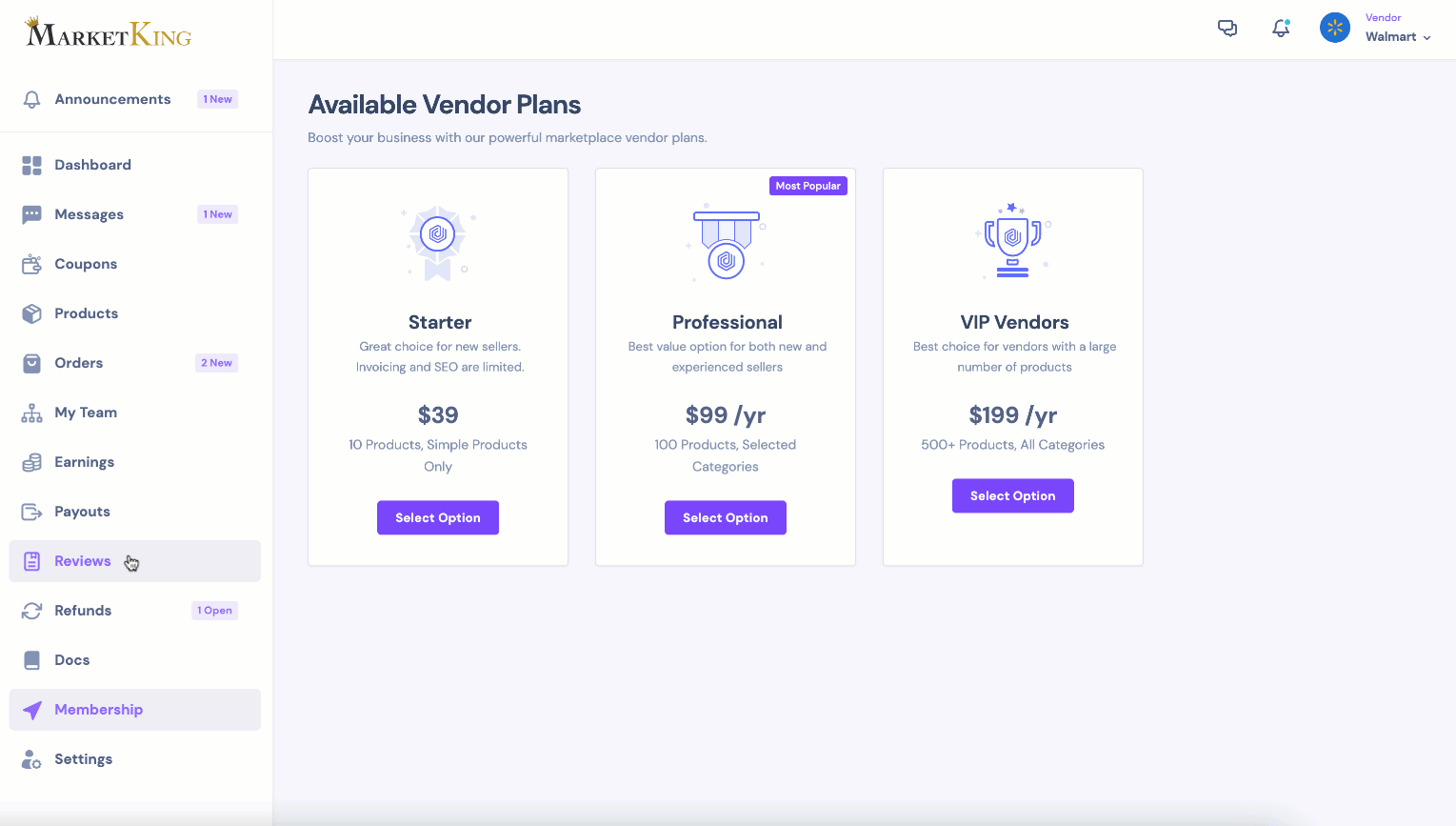 Vendor Product Management
Natively integrated WooCommerce
product management
capabilities for vendors (restricted based on shop settings). Vendors can add & configure simple products, variations, categories, image galleries, product tags, upsells, linked products, digital downloads, etc: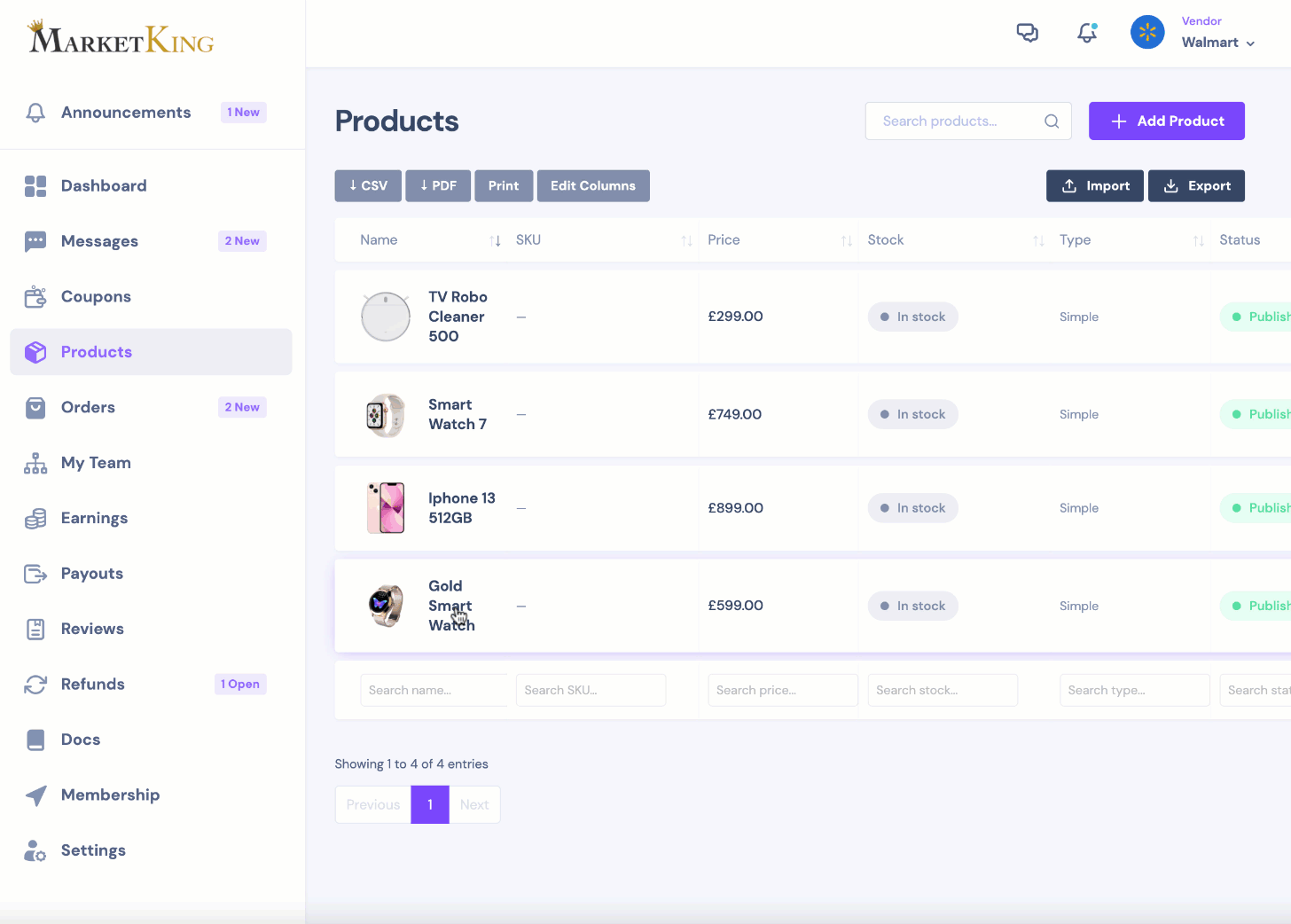 Vendor Order Management
Sellers can
manage their own orders
through the vendor dashboard. They can add order notes, configure downloadable product permissions, download invoice or packing slip, etc: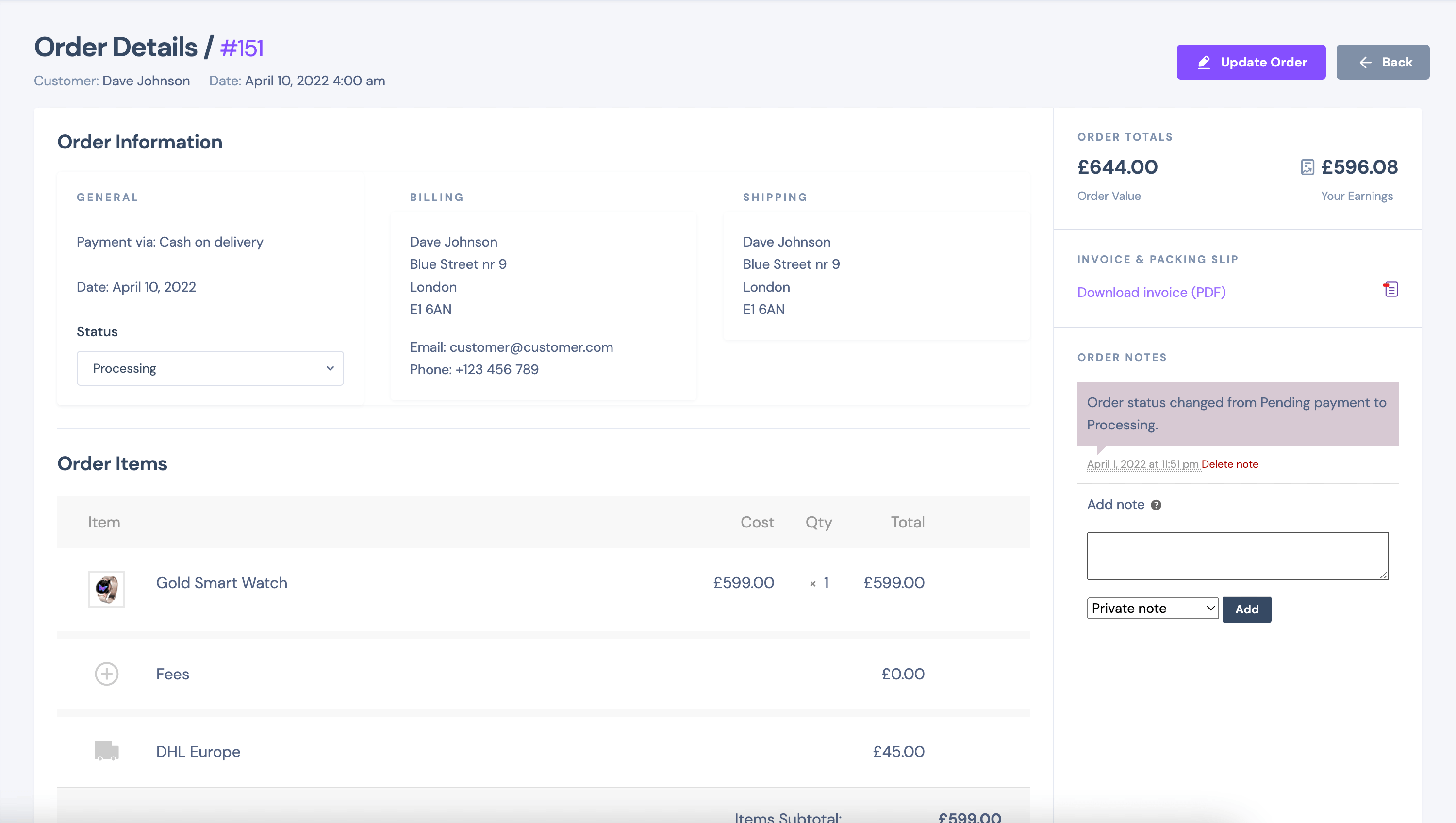 Single Product Multiple Vendors
Advanced
single product multiple vendors
module, with stock & vendor priority settings, positioning control, smart cache, easy 'add to store' button, backend management, and more.
Vendors can edit and set product details, images & prices.
Optionally, vendors can be restricted to only selling existing store products.
Market admin can assign sellers to specific products from the backend
Set priority by price, vendor rating, or available stock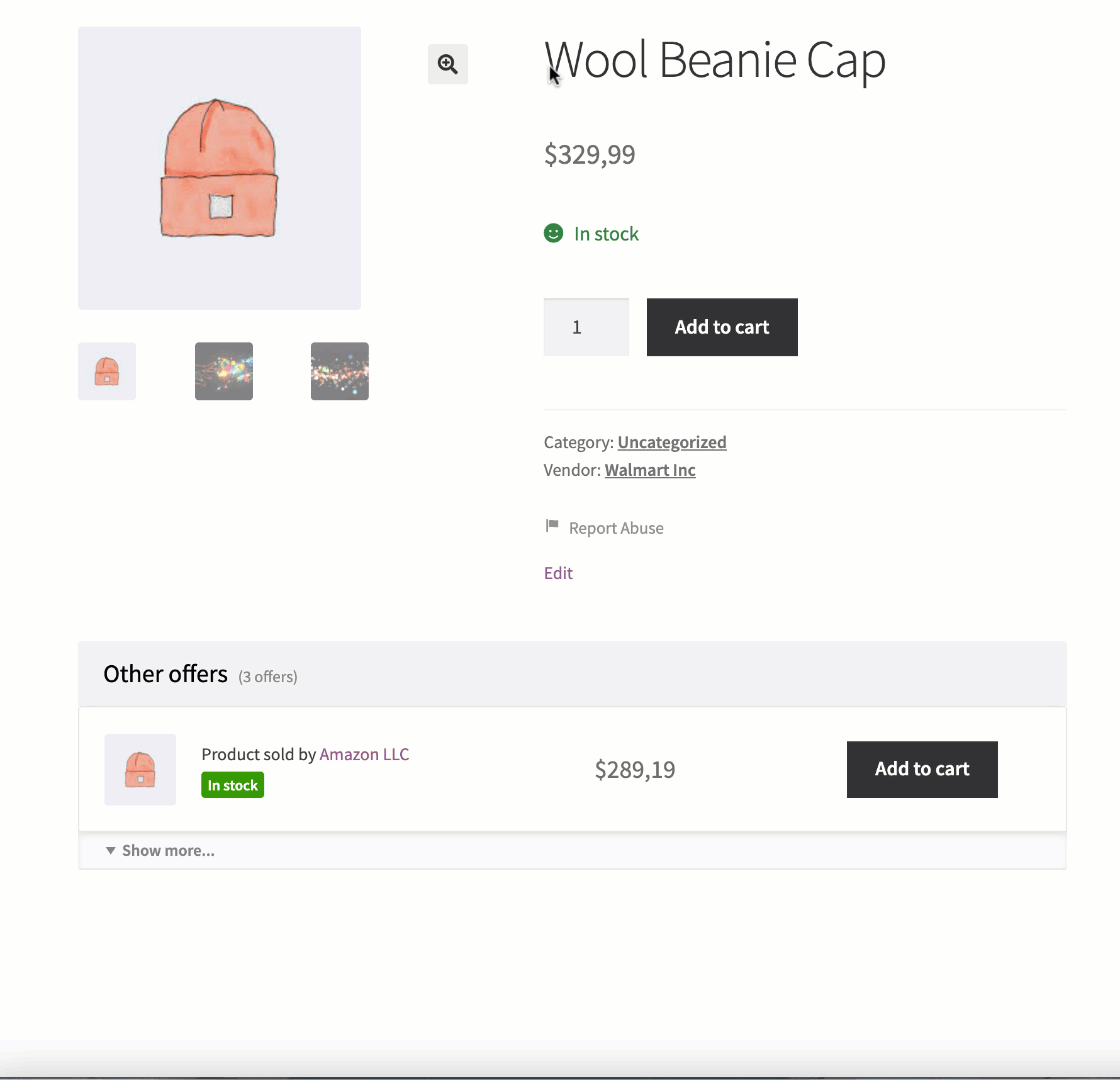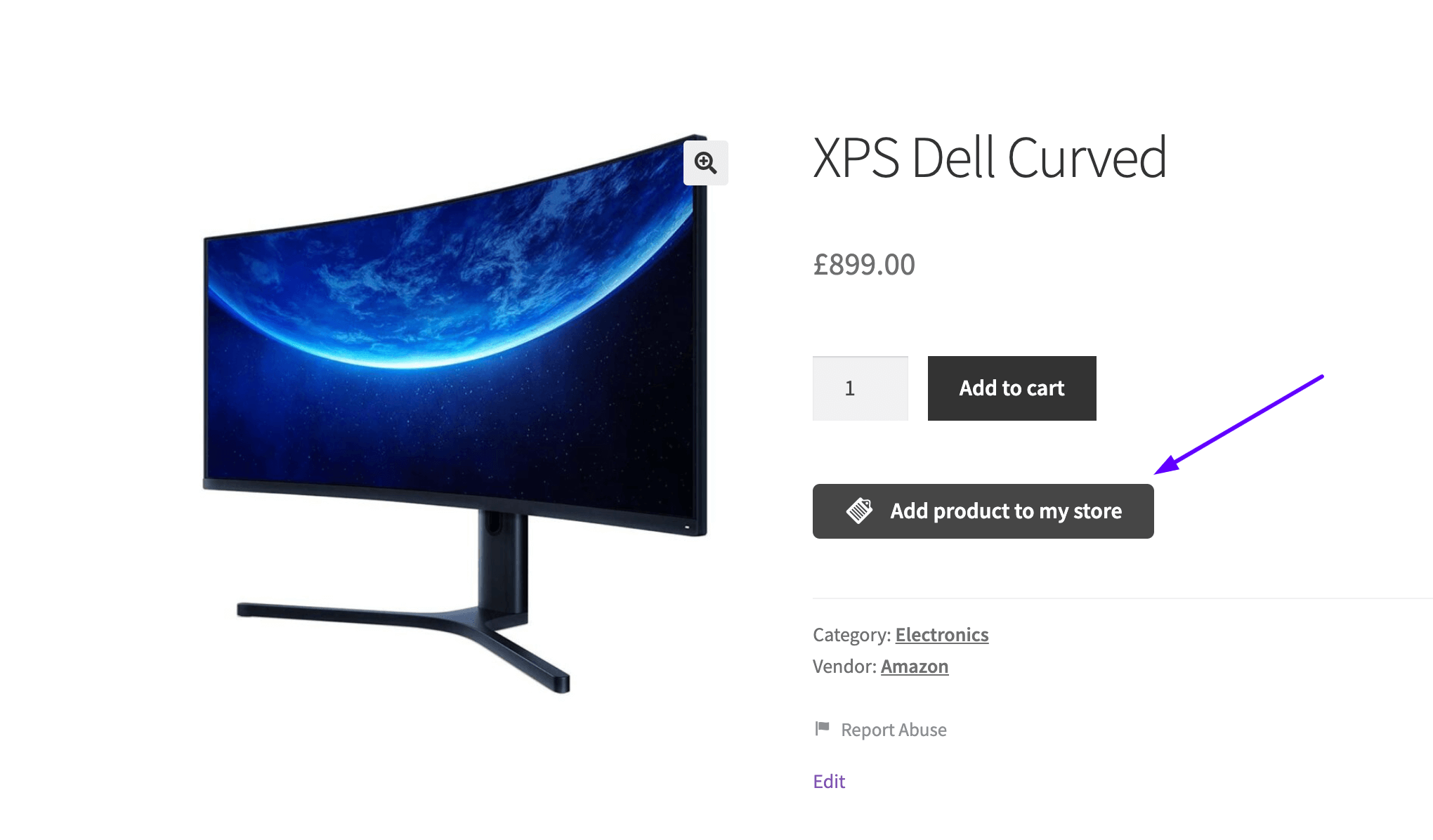 Stripe Connect - Automatic Split Payments (New!)
The
Stripe Connect
module allows vendors to connect their Stripe accounts, and receive automatic split payments. Refunds are also issued automatically by vendors with no admin intervention needed. No other Stripe plugin is needed - this is a complete standalone solution.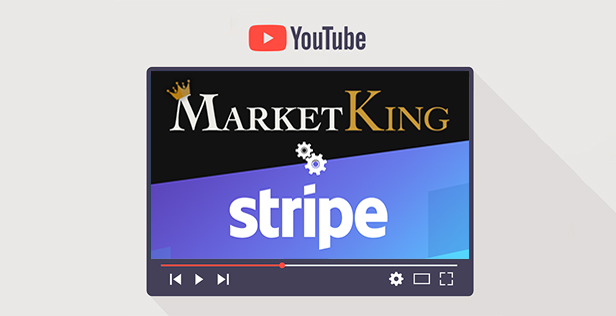 Vendor Products Import & Export
Vendors can add products in bulk, as well as download customizable CSV lists of their products, via their vendor dashboard, through the
import/export module
: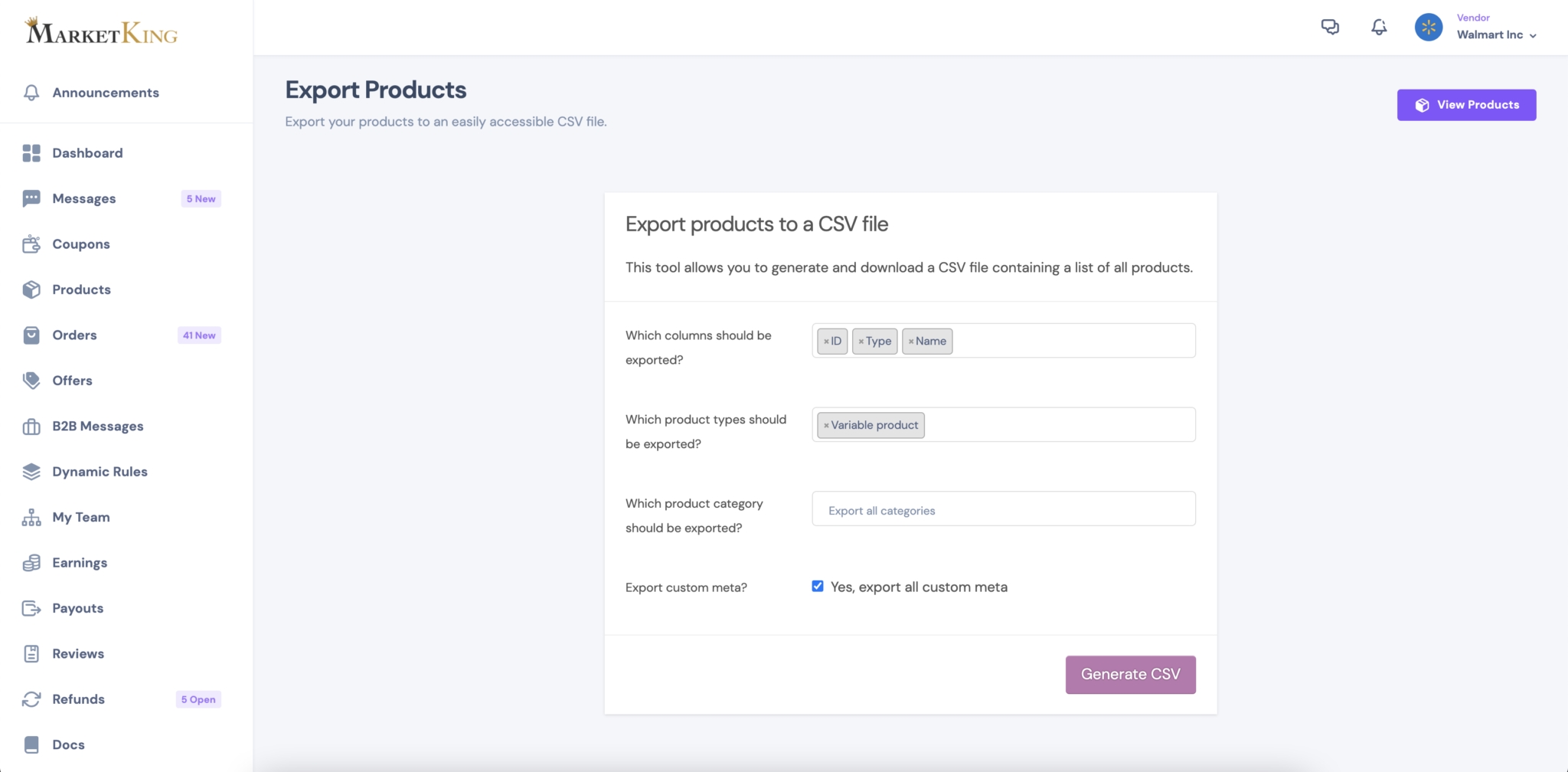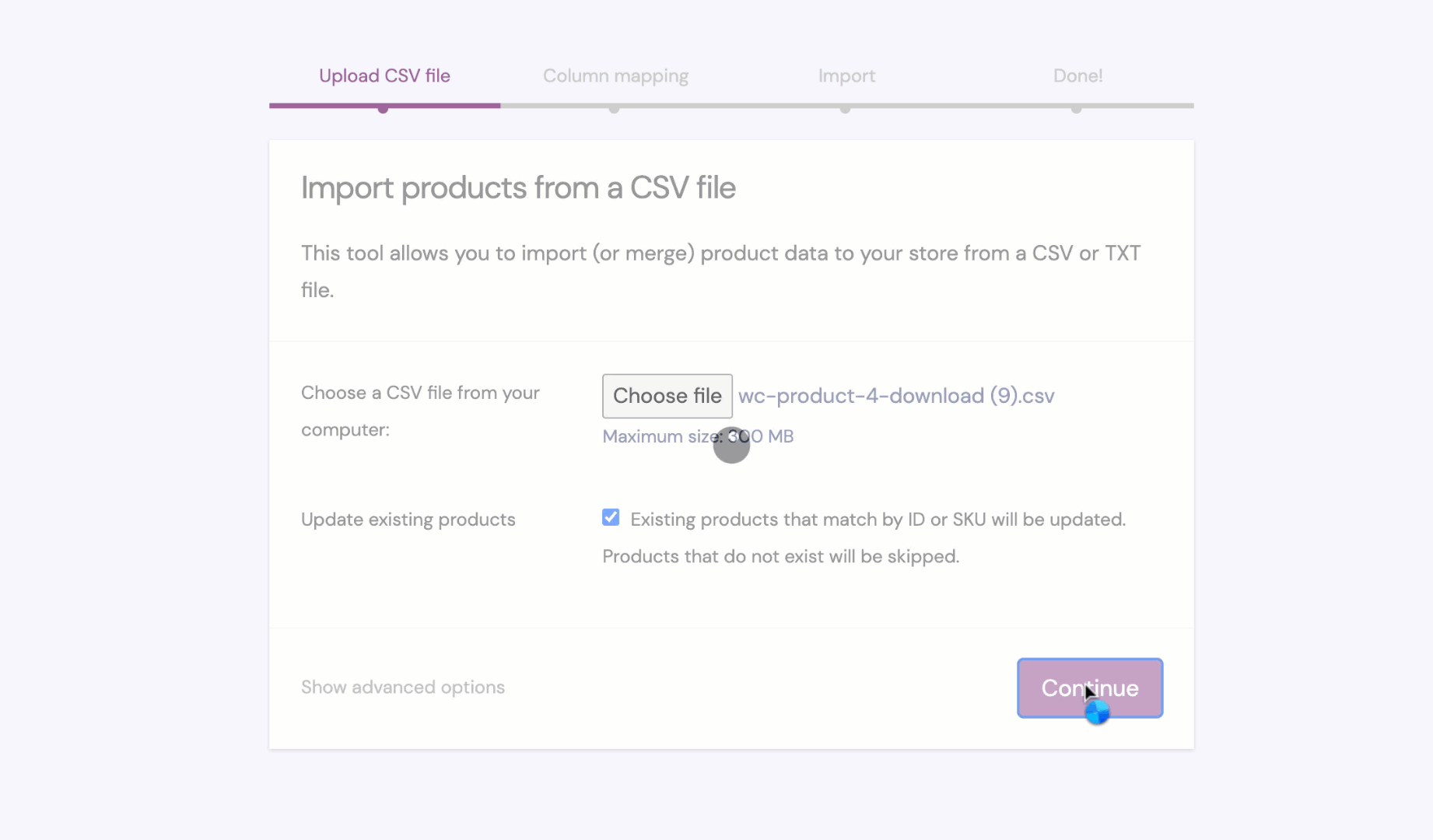 Marketplace Reports & Charts
Dedicated
reports panel
in the admin backend shows new registrations, order numbers, sales & commissions by vendor, and for the entire marketplace:

Vendor Registration, Custom Fields, and Approval
Powerful
registration
module allows you to set up multiple registration options, choose from 9+ types of custom fields, review & approve vendors automatically or manually. Use 'My Account' page, or separate 'Become a Vendor' page: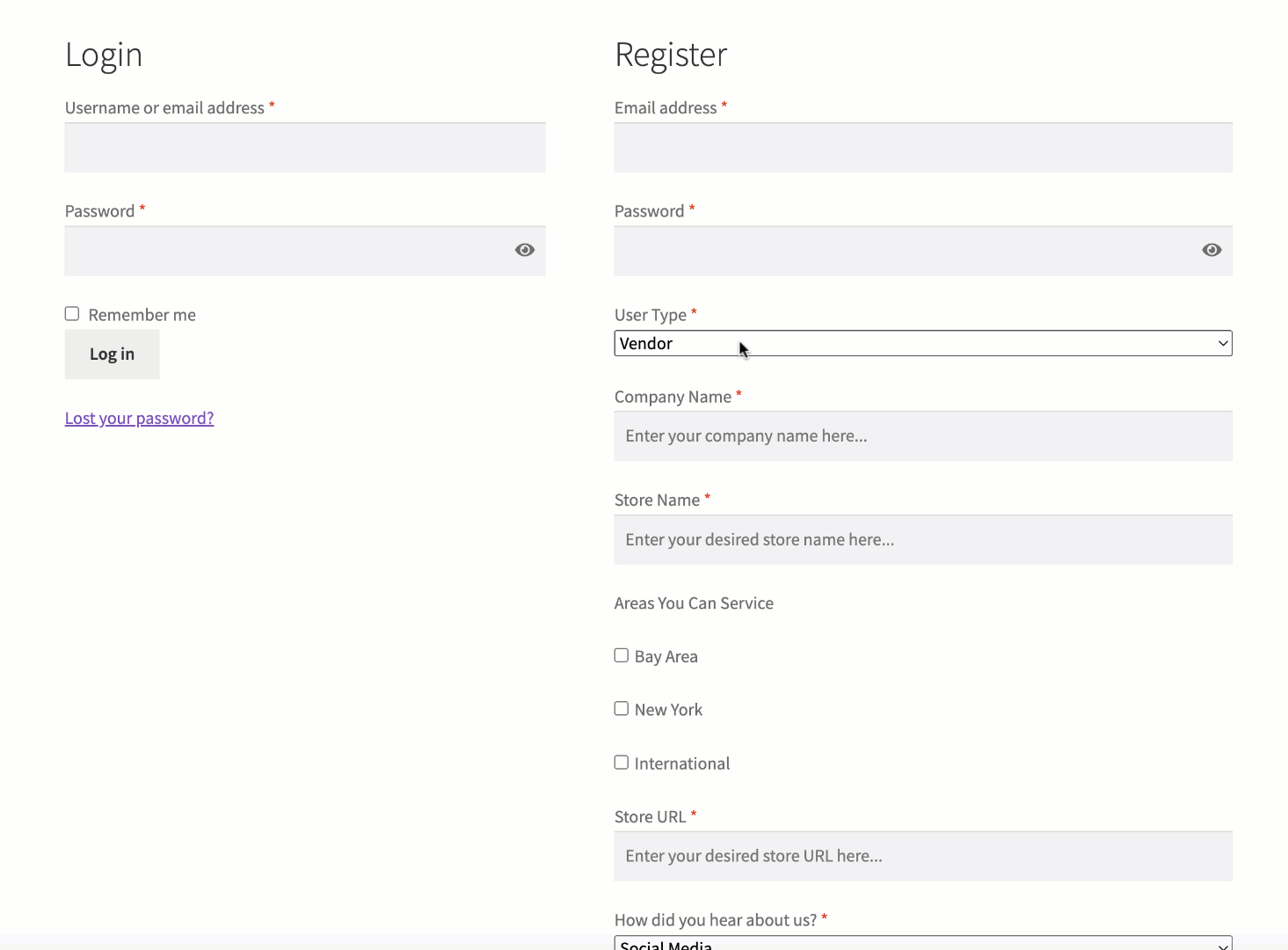 Product & Vendor Inquiries
Module for
product & vendor inquiries
, with email notifications and messaging system that allows in-depth discussions: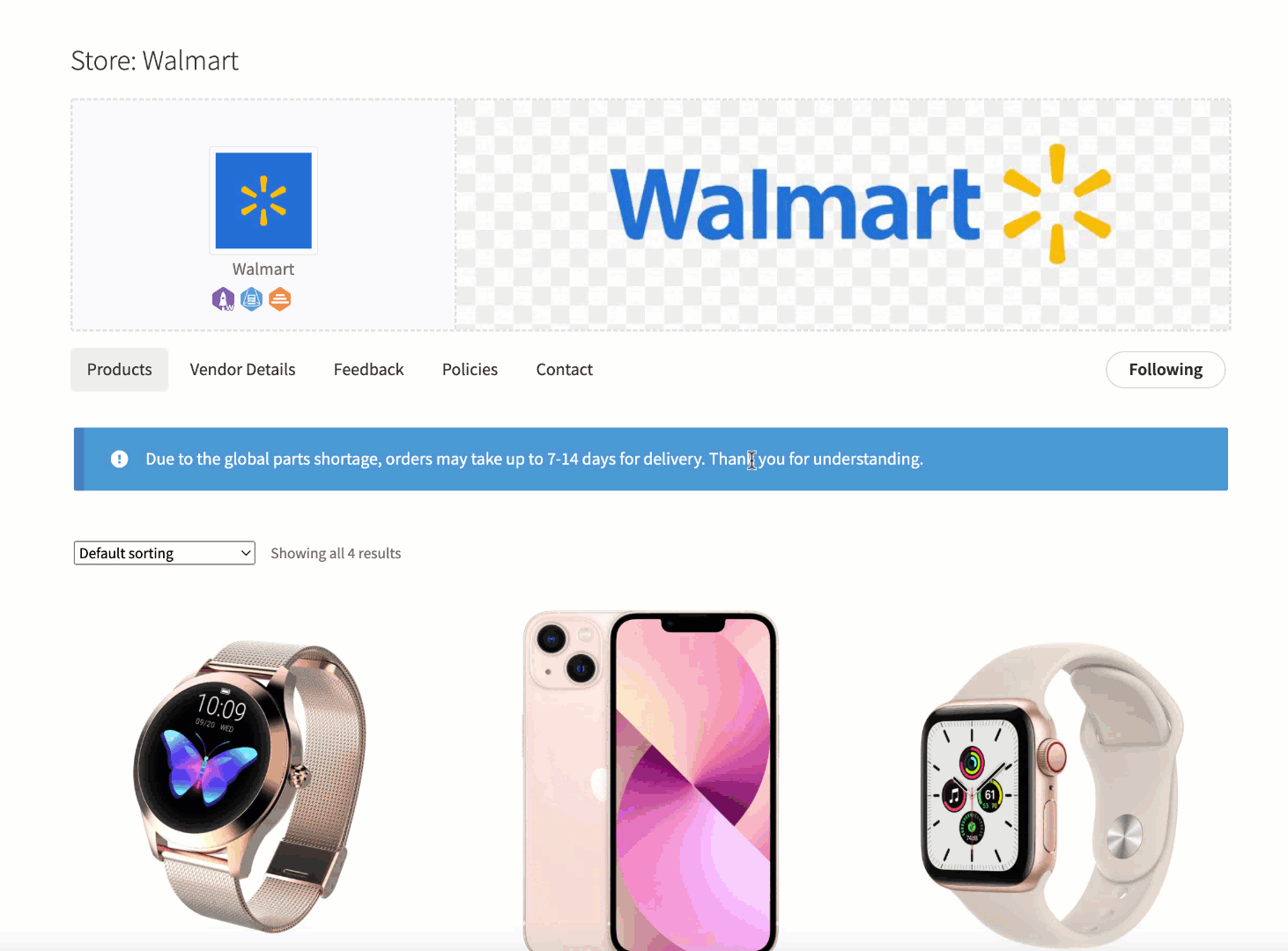 Refunds Requests
Refund
requests module
with dedicated panels, messaging and decision systems: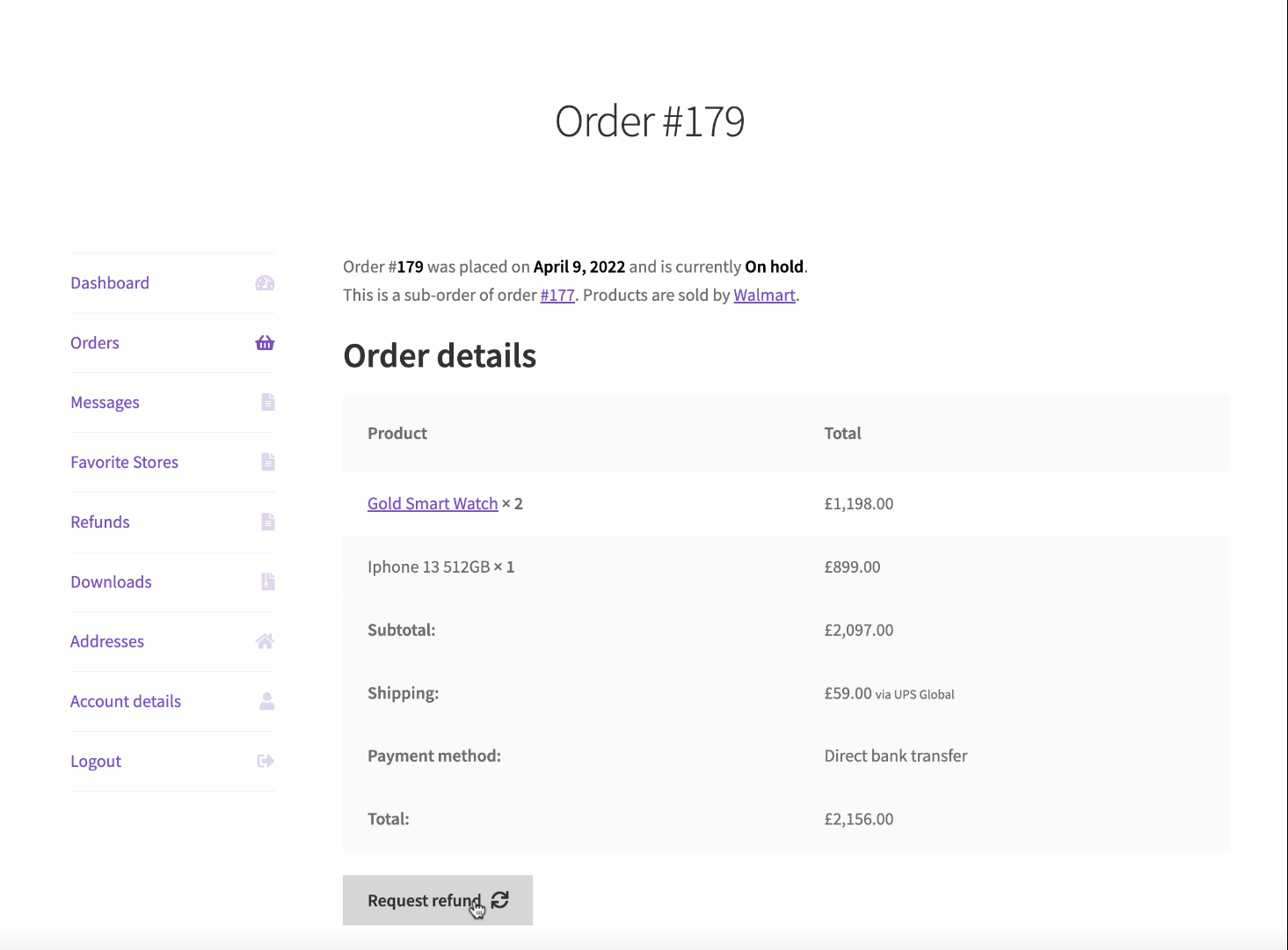 Vendor Team & Staff
Vendors can add their own
teams and staff
and configure detailed permissions and panel access capabilities:
Payouts & Withdrawals
Pay your vendors and use MarketKing's
payouts system
to record and keep track of balances. Payout emails are sent, and payments are registered in the vendor balance history. Supports bonus payments, and vendor withdrawal requests. If Stripe Connect integration is used, Payouts are not necessary - vendors get paid automatically in their Stripe accounts, as orders are placed.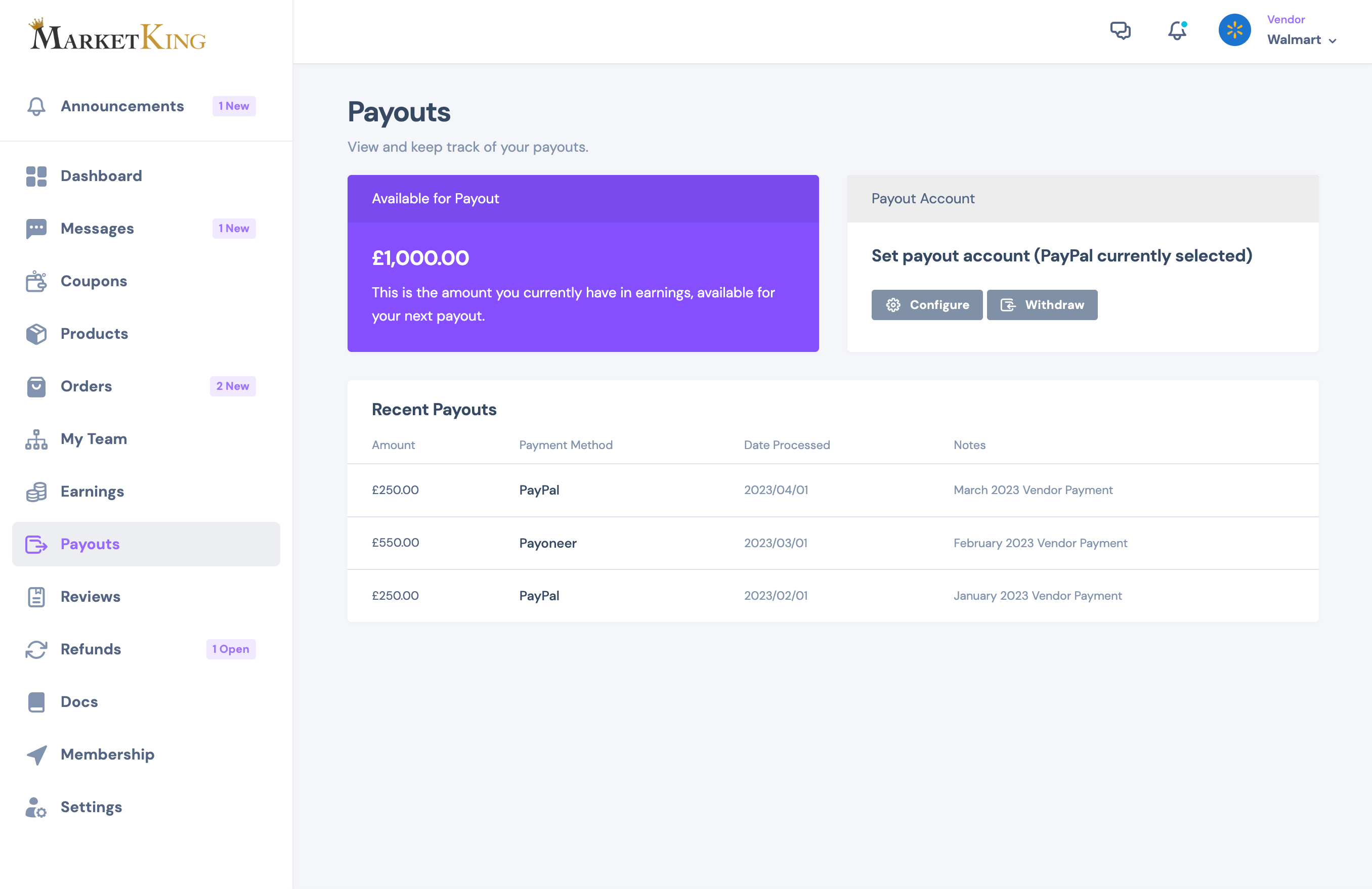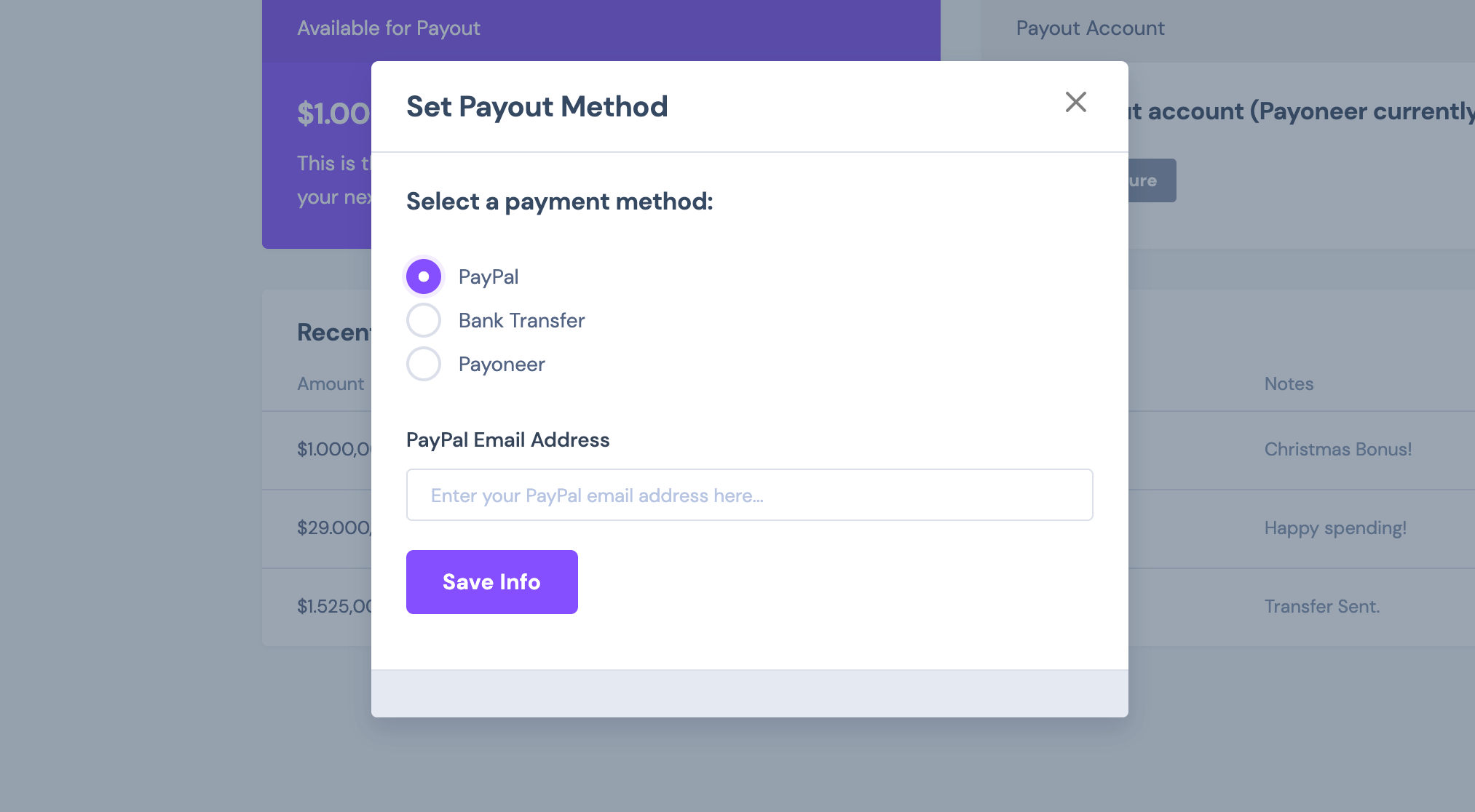 Vendor Groups & Group Transfer Rules
You can
organize vendors into groups
and set specific limits (e.g. allowed product numbers, types or categories), available panels, commission levels, announcements, badges, etc by group. For example, one group of vendors can have access to Coupons, Invoicing, SEO and the Vacation feature, while another can only access basic features such as product and order management. Group membership can be tied to a paid subscription or single purchase.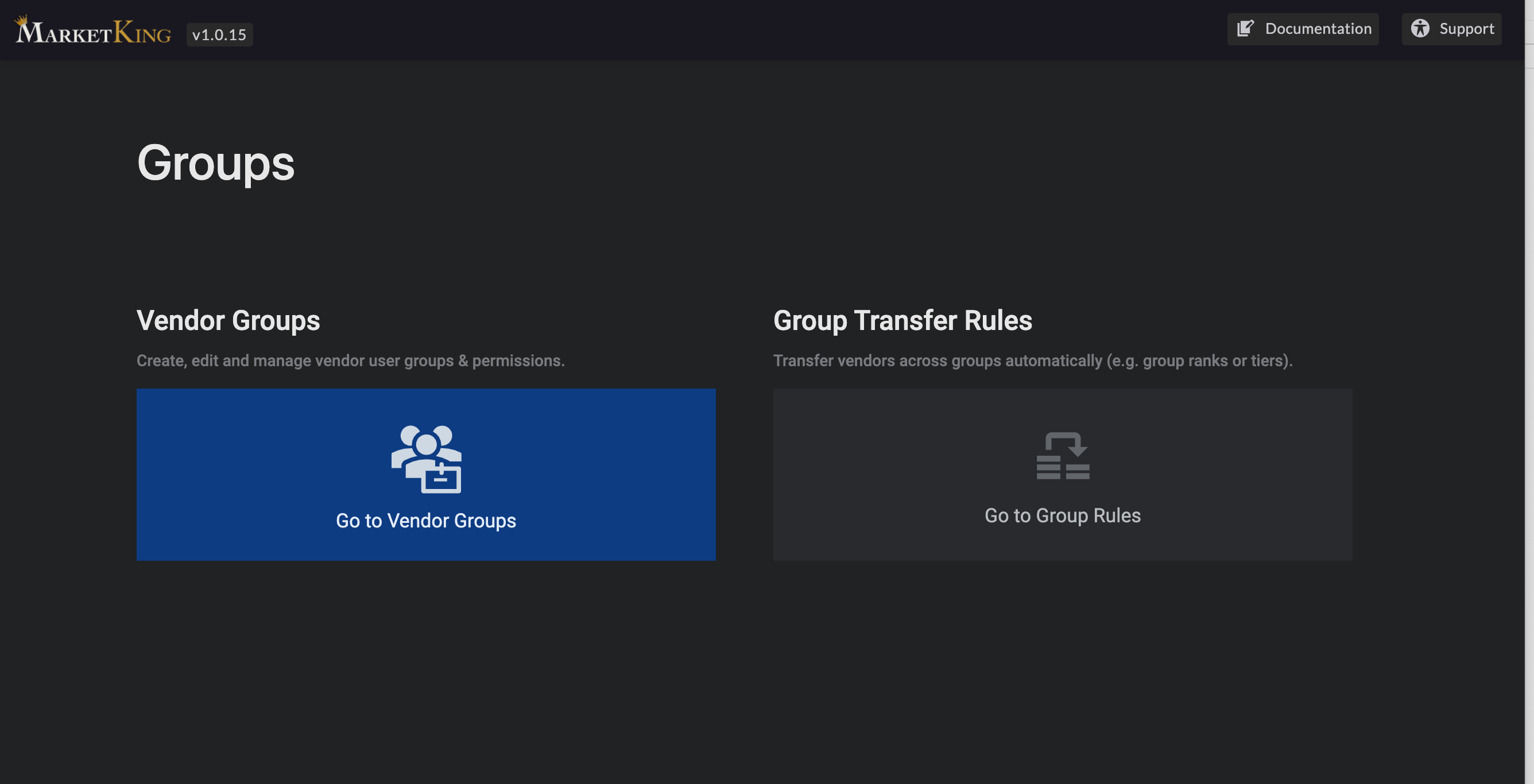 Through group transfer rules, you can automatically move vendors across groups (e.g. 'New Vendors' are moved to the 'VIP' group when they hit $500k in total sales). When this happens, vendors can automatically get certain badges, better commissions, access to new categories, etc.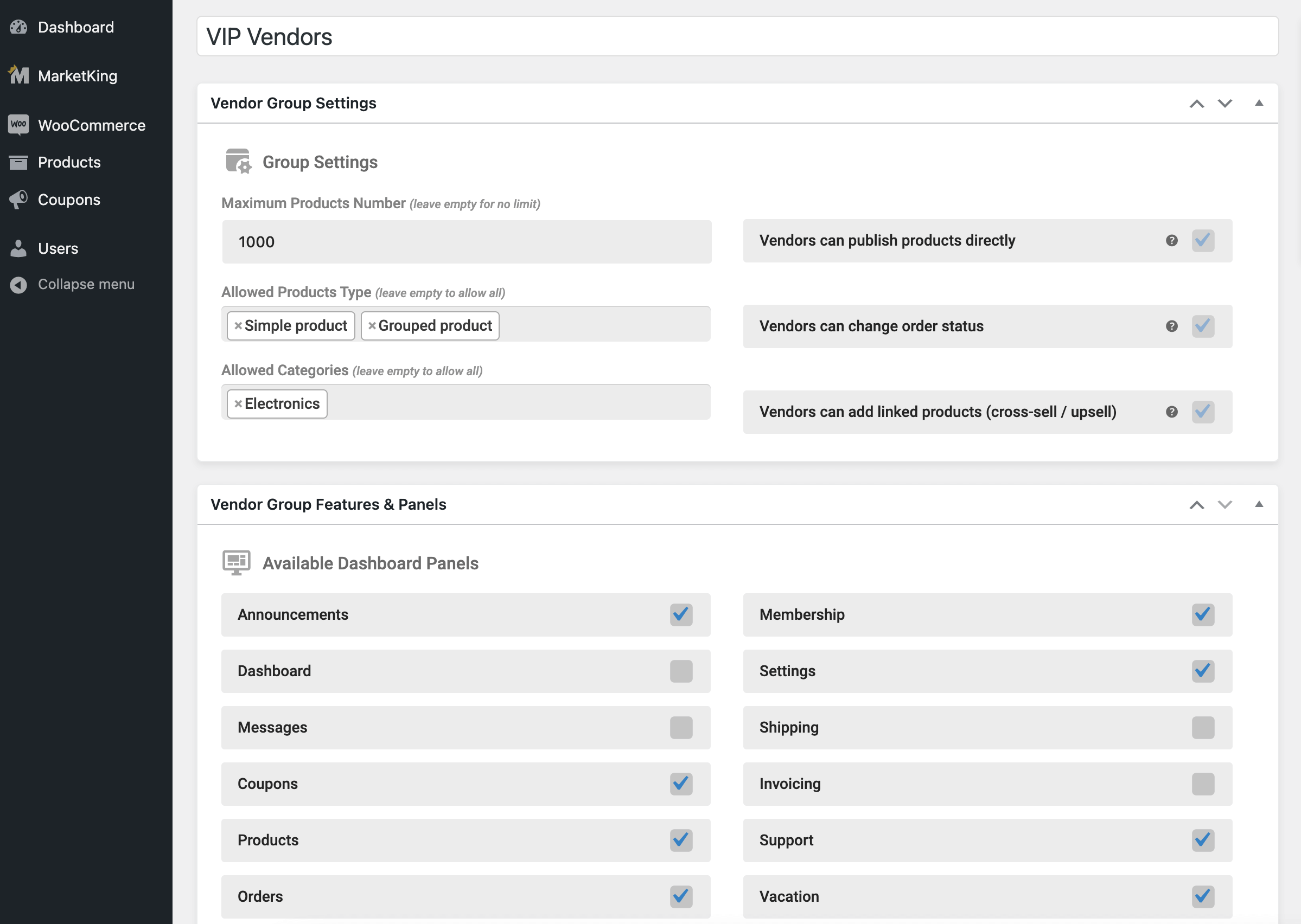 Vendor Coupon Management
Each vendor can create and
manage coupons
for their own products. Native Woo interface is used, so vendors have access to all standard features, usage restrictions, limits, etc.

Vendor Earnings & Charts
Through the
earnings panel
, vendors can easily view earnings by order, by month and more. Earnings lists can be downloaded as CSV or PDF files.

Wholesale & B2B - B2BKing Plugin Integration
Through the integration with our award-winning
B2BKing plugin
, vendors get access to wholesale prices, tiered pricing, product visibility, minimums, hidden pricing, etc.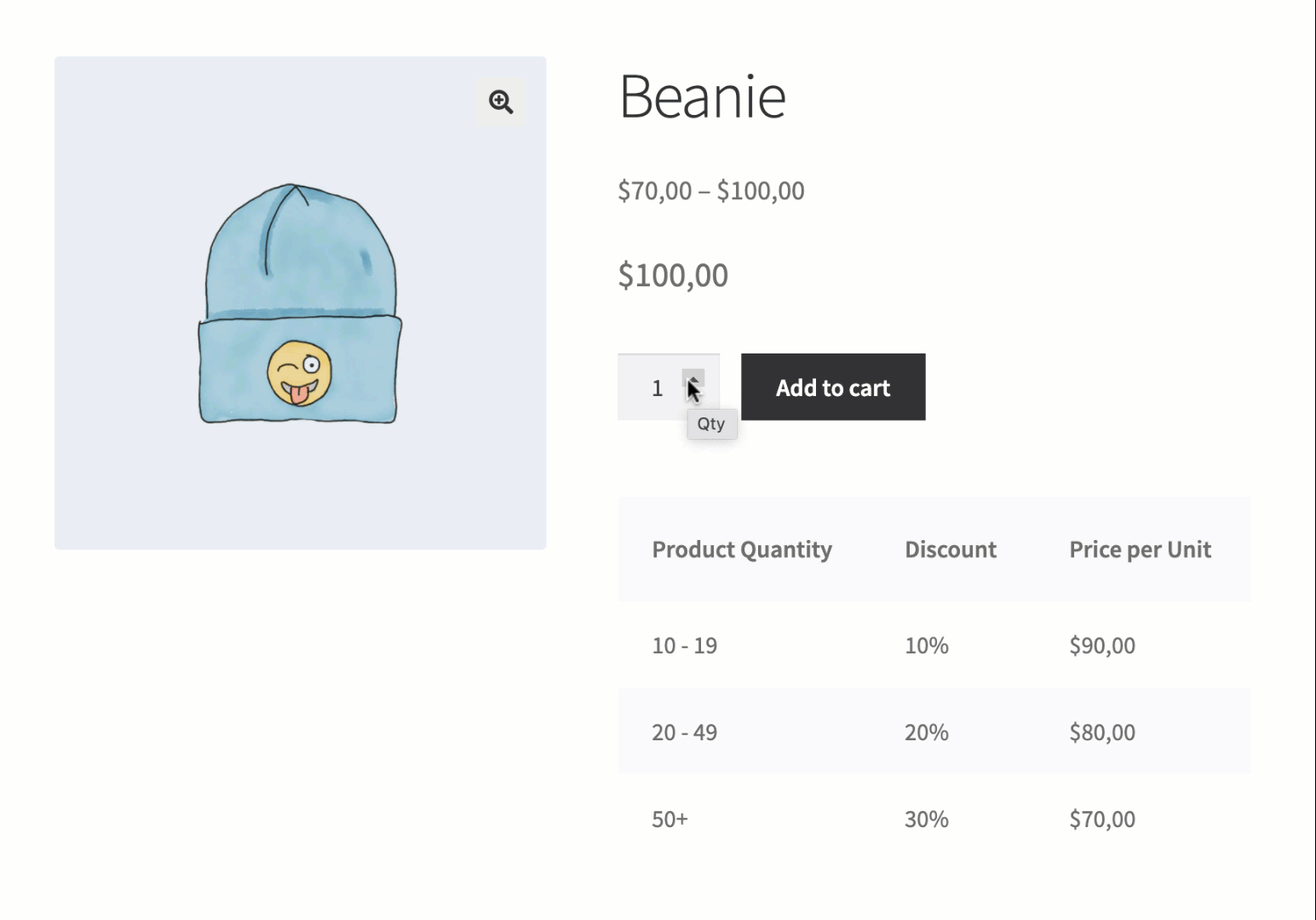 Vendor Badges System
Configure
vendor badges
and award them to vendors manually, or automatically based on group or conditions (order number, sales value, registration time). Built with performance in mind, badges use a smart cache system that refreshes vendor badges every 24 hours.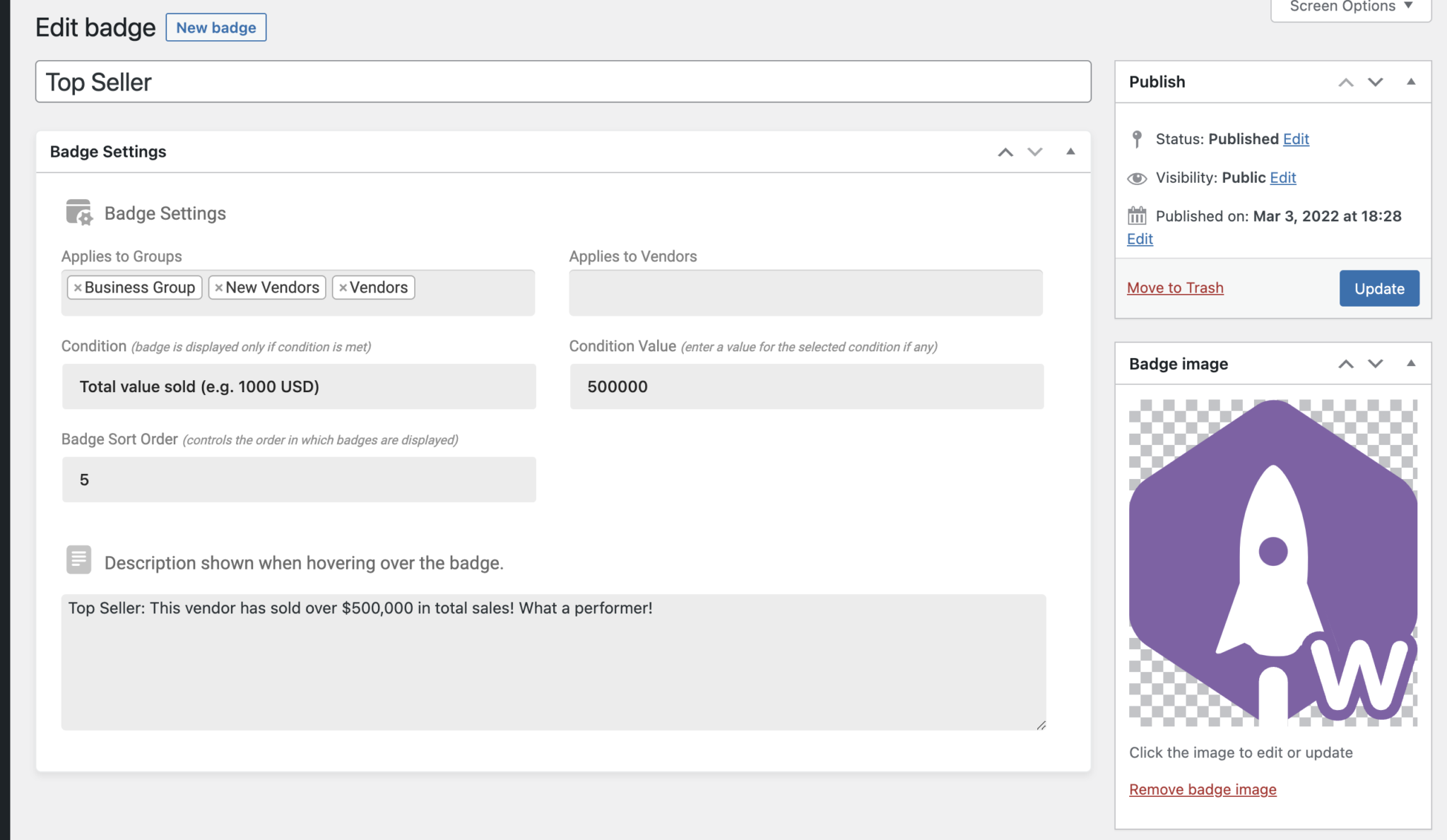 Seller Verification
Configure
verification items
for your vendors to upload (e.g. proof of address, proof of identity, company license, etc). Set requirements by vendor group. Documents are checked in the backend and a log is saved. Vendors are notified of document status by email.

Vendor Vacation
Through the
vendor vacation module
, vendors can pause store operations, immediately, or through a scheduled close.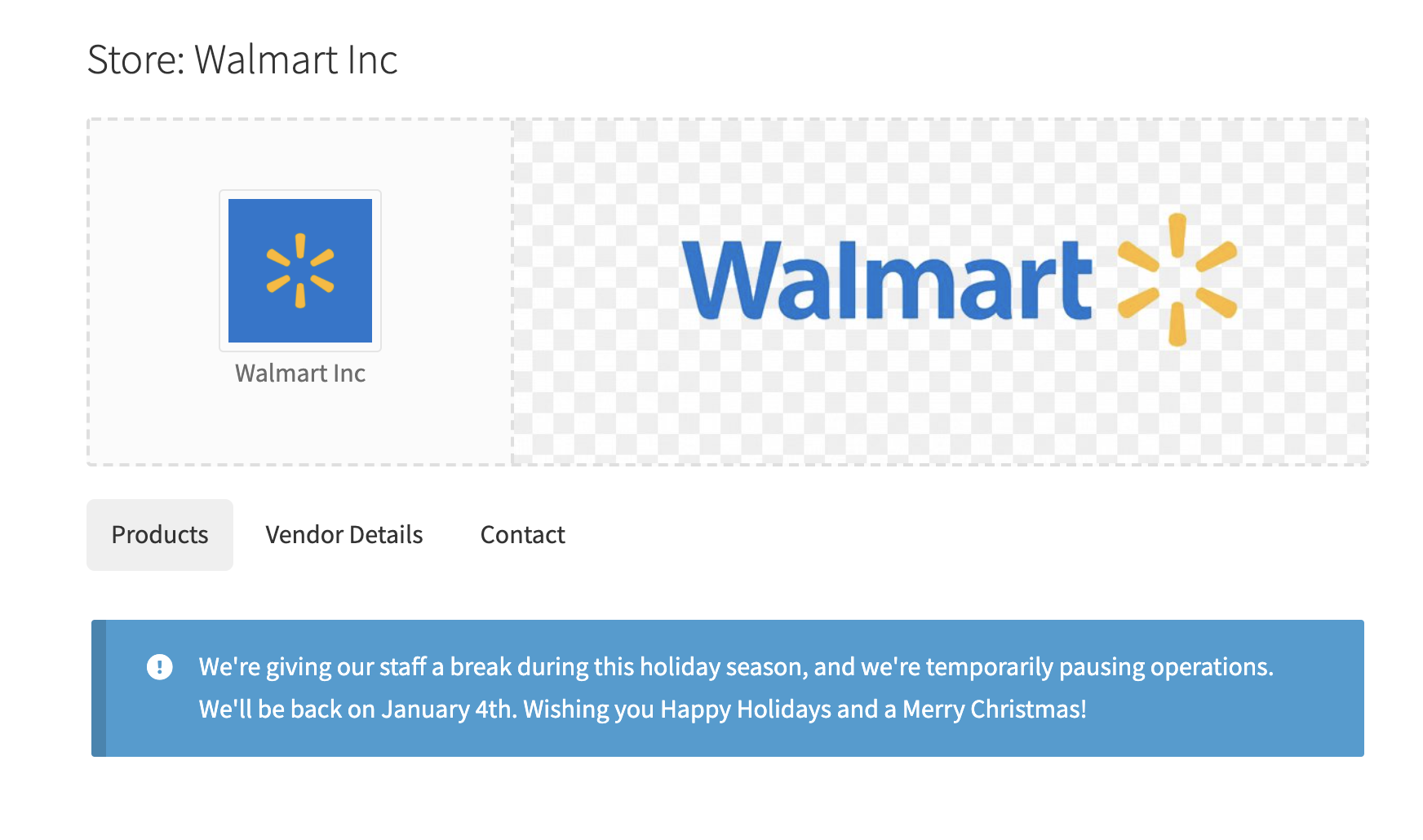 Abuse Reports System
Through the
abuse reports feature
, customers can report products that appear fake or suspicious. This module also allows vendors to report reviews. Shop admin receives and reviews reports in the site backend.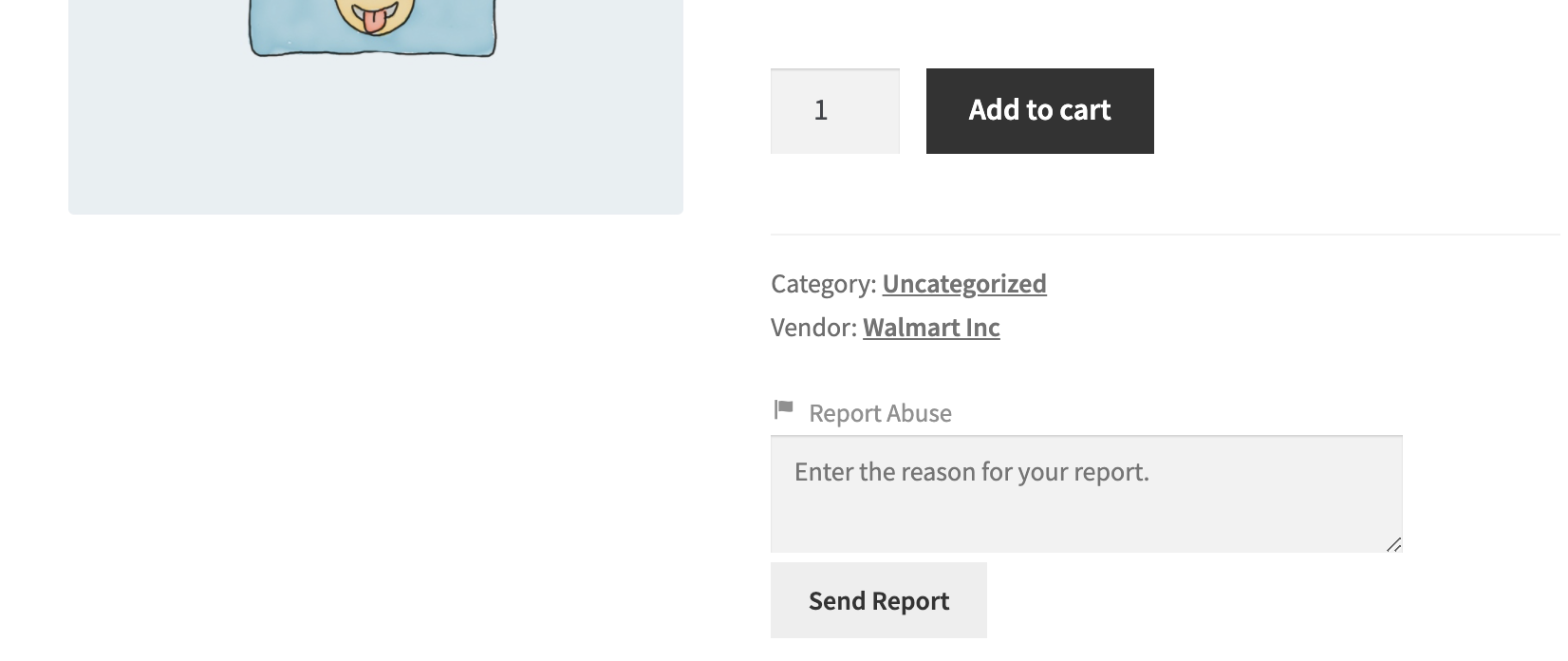 Store Policies
Each vendor can configure and format their own
store policies
. Dedicated policies tab will be displayed on the vendor's store page.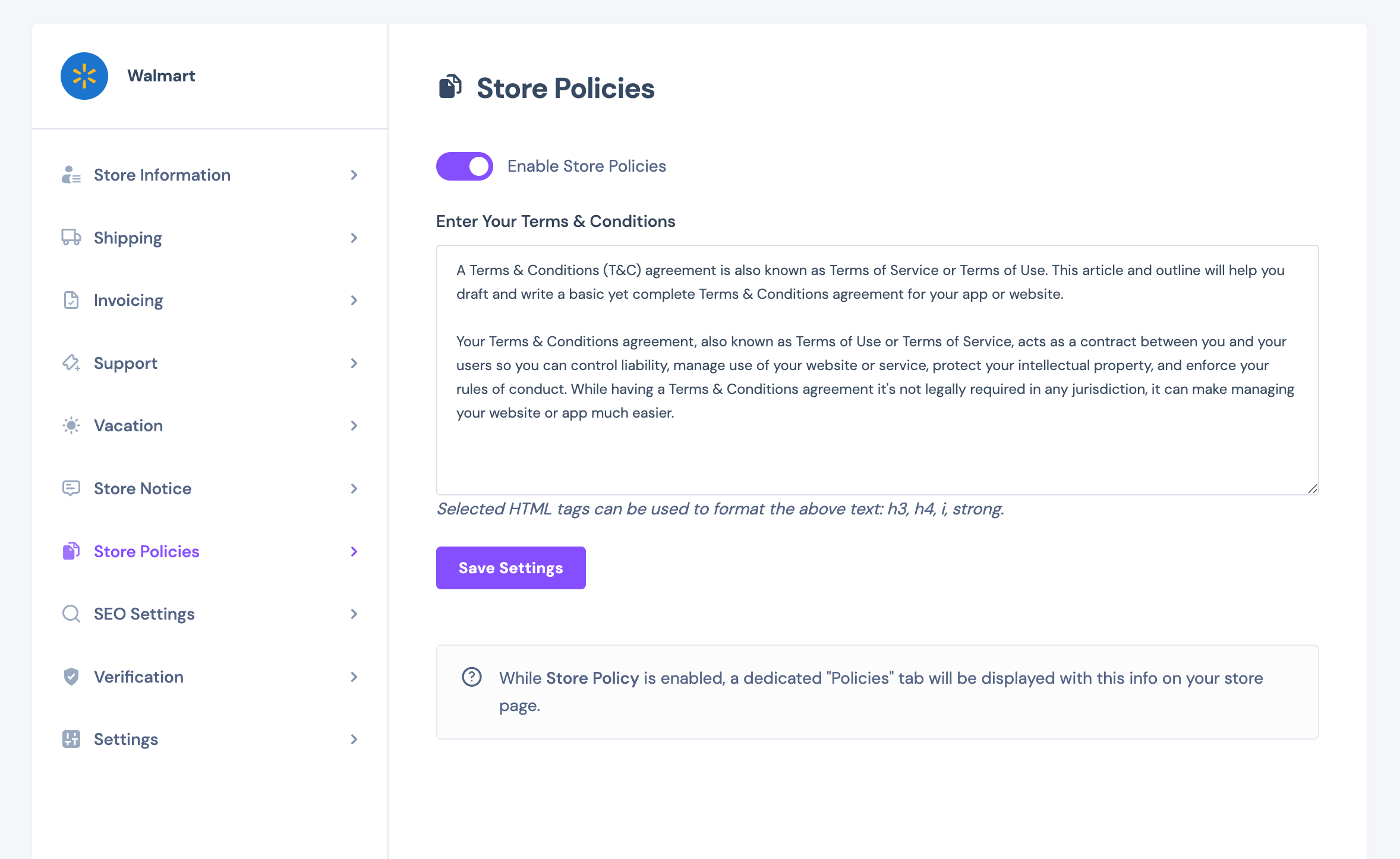 Store Reviews
Through the
store reviews module
, customers can leave reviews for products, which are aggregated and displayed on vendor pages. Vendors can report reviews to the store admin, as well as write a public reply. Reviews generate email notifications that are sent to vendors. The marketplace admin can view all reviews in the site backend.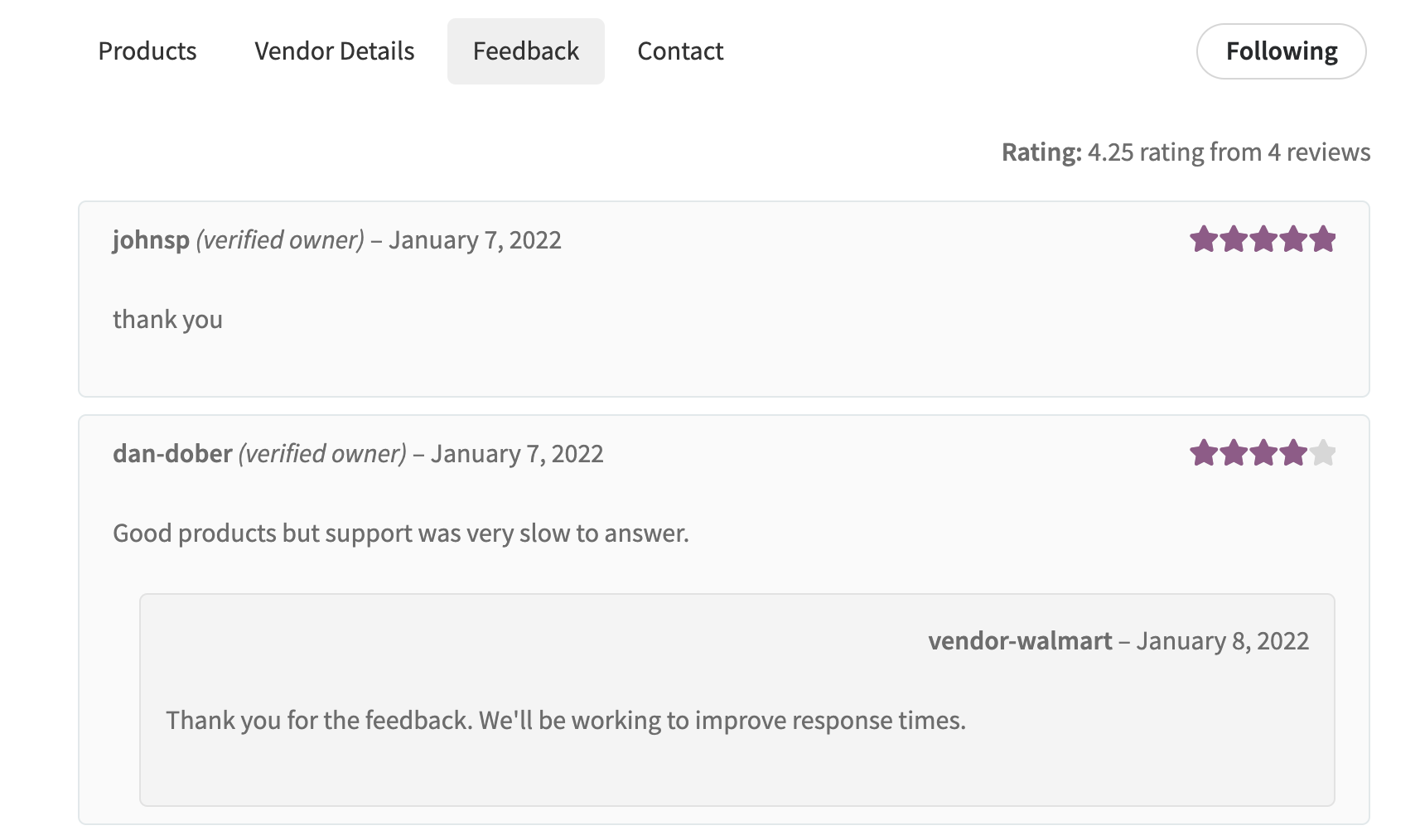 Announcements
Through the
announcements feature
, the market admin can broadcast an announcement message to specific vendors or groups. Announcements can also result in email notifications, based on each vendor's email preference settings.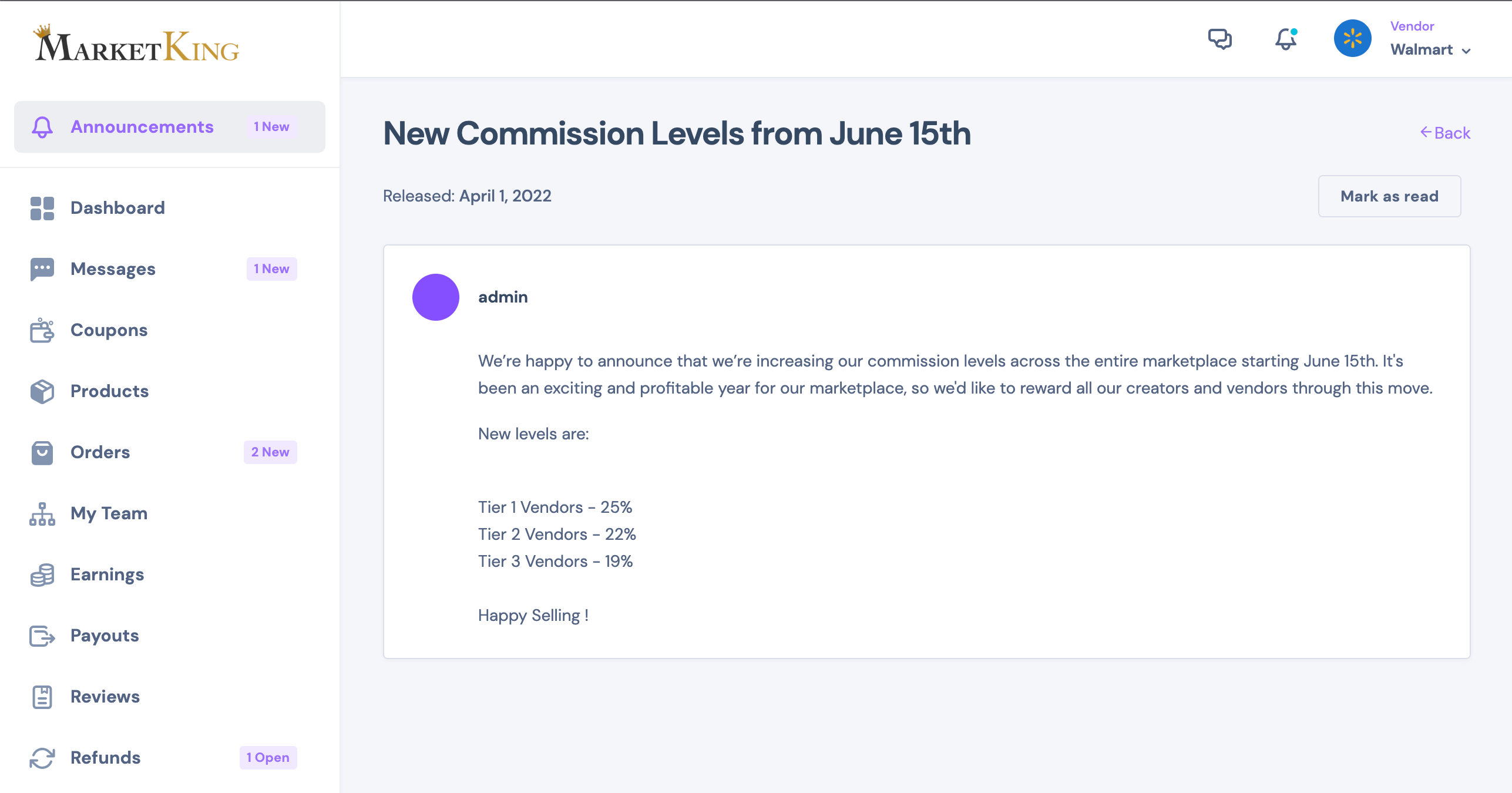 Favorite Stores (Followers)
The
favorite stores
module allows customers to follow specific stores. Customers can view their favorite stores in their My Account pages. Through the use of shortcodes, you can create special pages where only favorite stores' products are shown.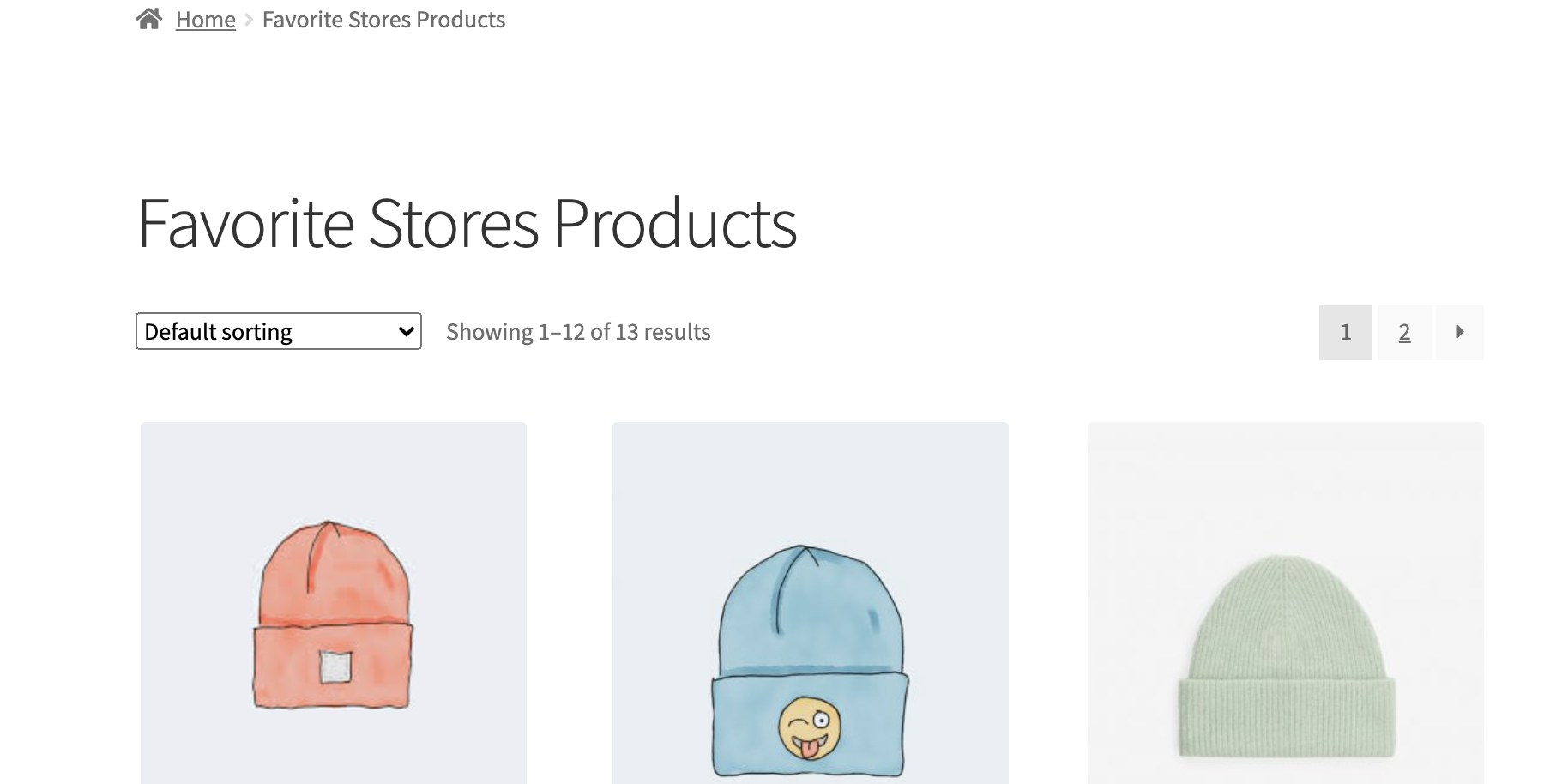 Seller Documentation
MarketKing comes with a
seller documentation
module that allows you to set up a knowledgebase of articles that are available in your vendors' dashboards. Ideal for vendor onboarding, F.A.Q, and vendor guides.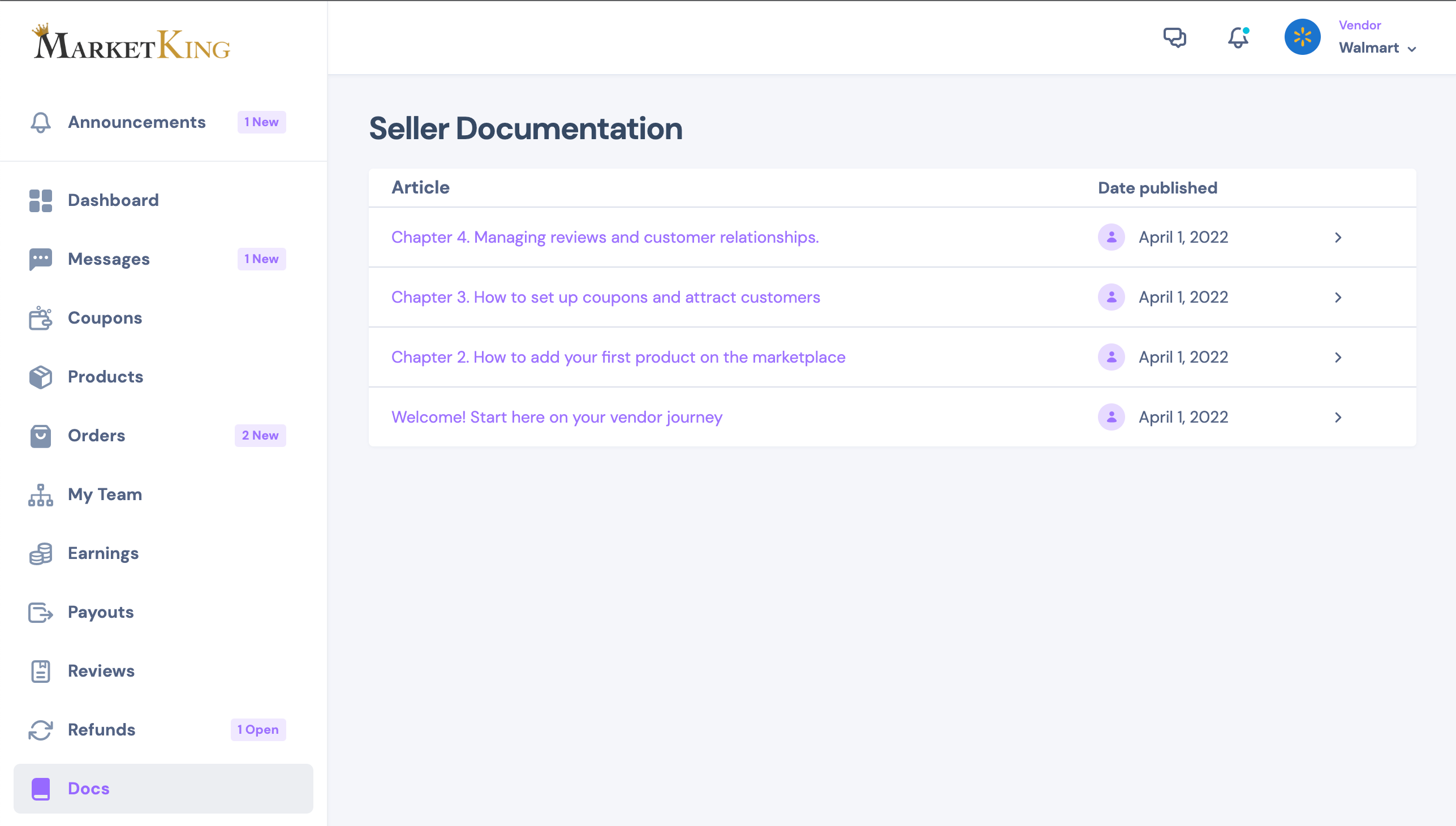 Store Support Options
Vendors can provide
store support
to customers, either through an external platform, via email, or through the built-in messaging tool. Verified customers can request support on order and store pages.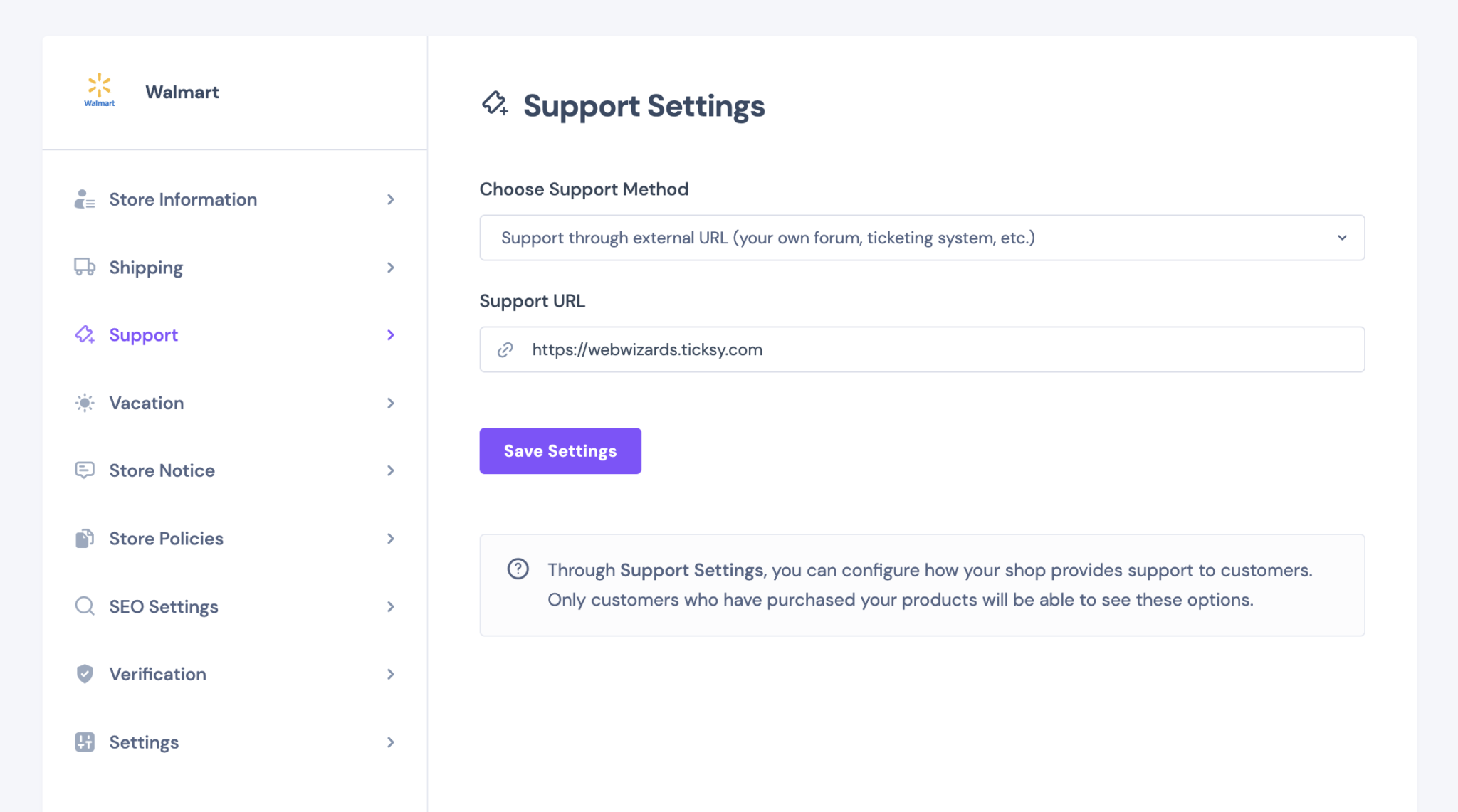 Messaging Module - Admin & Shop Communication
MarketKing's
messaging module
not only connects vendors and customers across various features, but also allows easy communication between vendor and market admins. Both vendors and admins can initiate conversations, discussing orders, products, payouts, marketplace rules, etc.

Vendor Invoices, Packing Slips, Shipping Labels
Through the
invoicing & packing
module, each vendor can configure their own invoice settings. PDF invoices are auto generated for each order and suborder and can be downloaded by vendors via the order page. Vendors can add their store name, address, logo, as well as any custom info such as VAT or company data. Similarly, shipping labels, packing slips and more can be generated.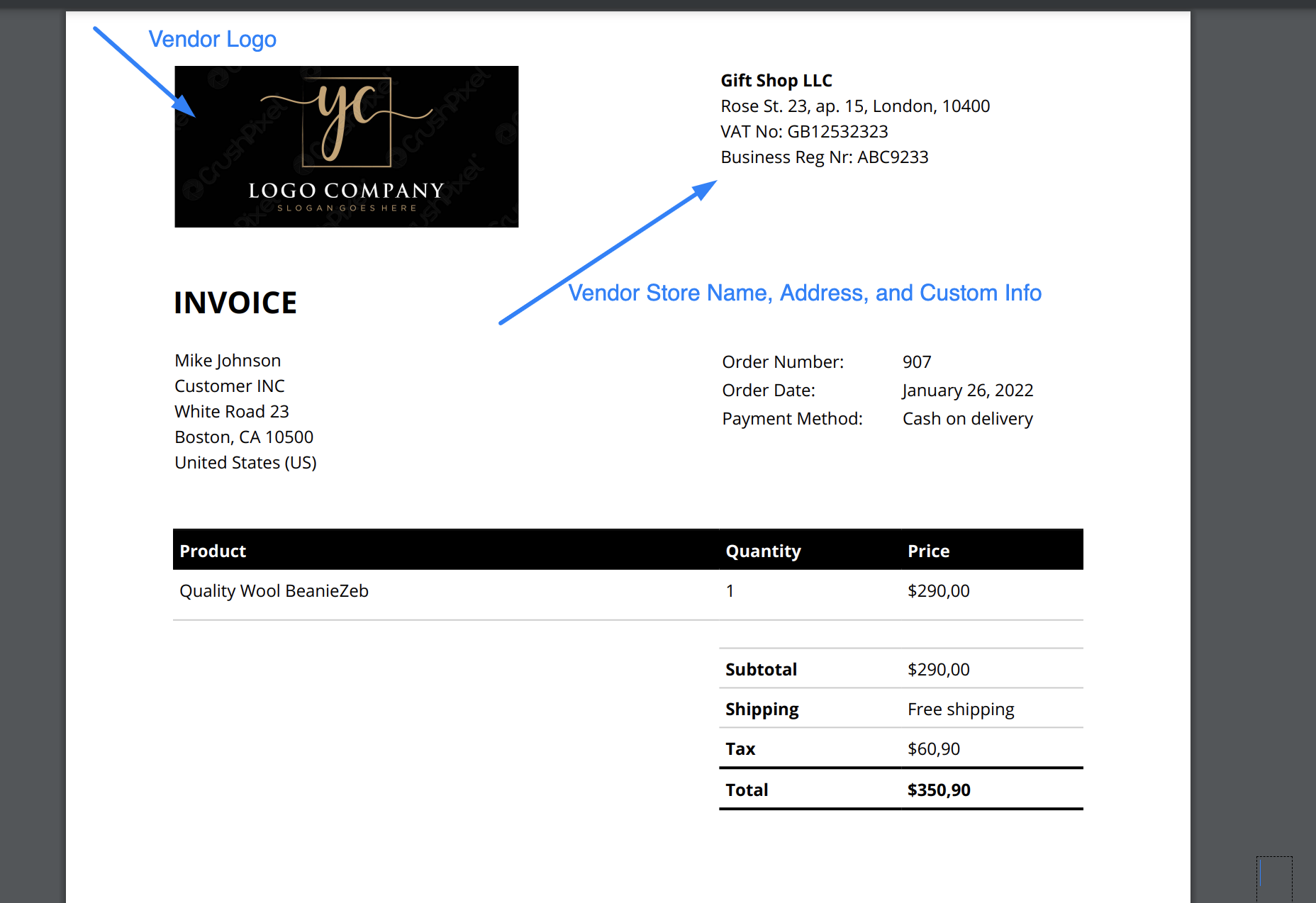 Shipping Tracking (New!)
The
shipping tracking
module allows vendors to enter tracking details for their shipments. Customers are notified and can easily track their packages. Supports DHL, TNT, Fedex, UPS, DPD, USPS, Royal Mail and more, and vendors can also enter details for custom providers.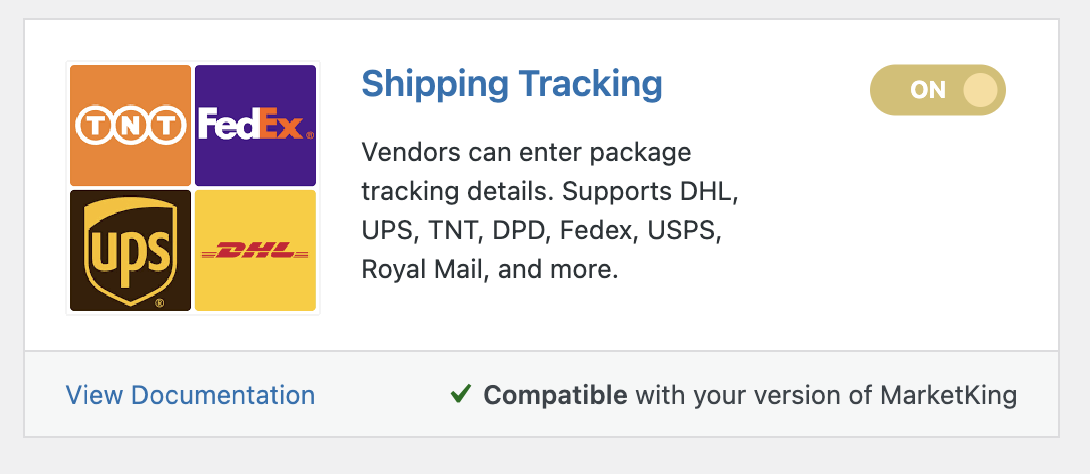 Zone-Wise Shipping
Through the
advanced shipping
module, each vendor can configure their own shipping settings by zone. Vendors can use shipping classes, and the market admin can also force enable specific methods for all vendors.
MarketKing Cart - Cart Split by Vendor
MarketKing has its own proprietary
split cart system
that separates products by vendor in the cart.
Modern display style with highest conversion rates.
Fees, discounts, taxes, etc are all split and displayed by vendor.
Classic cart can also be enabled through settings.
Same cart system used by large marketplaces such as Etsy.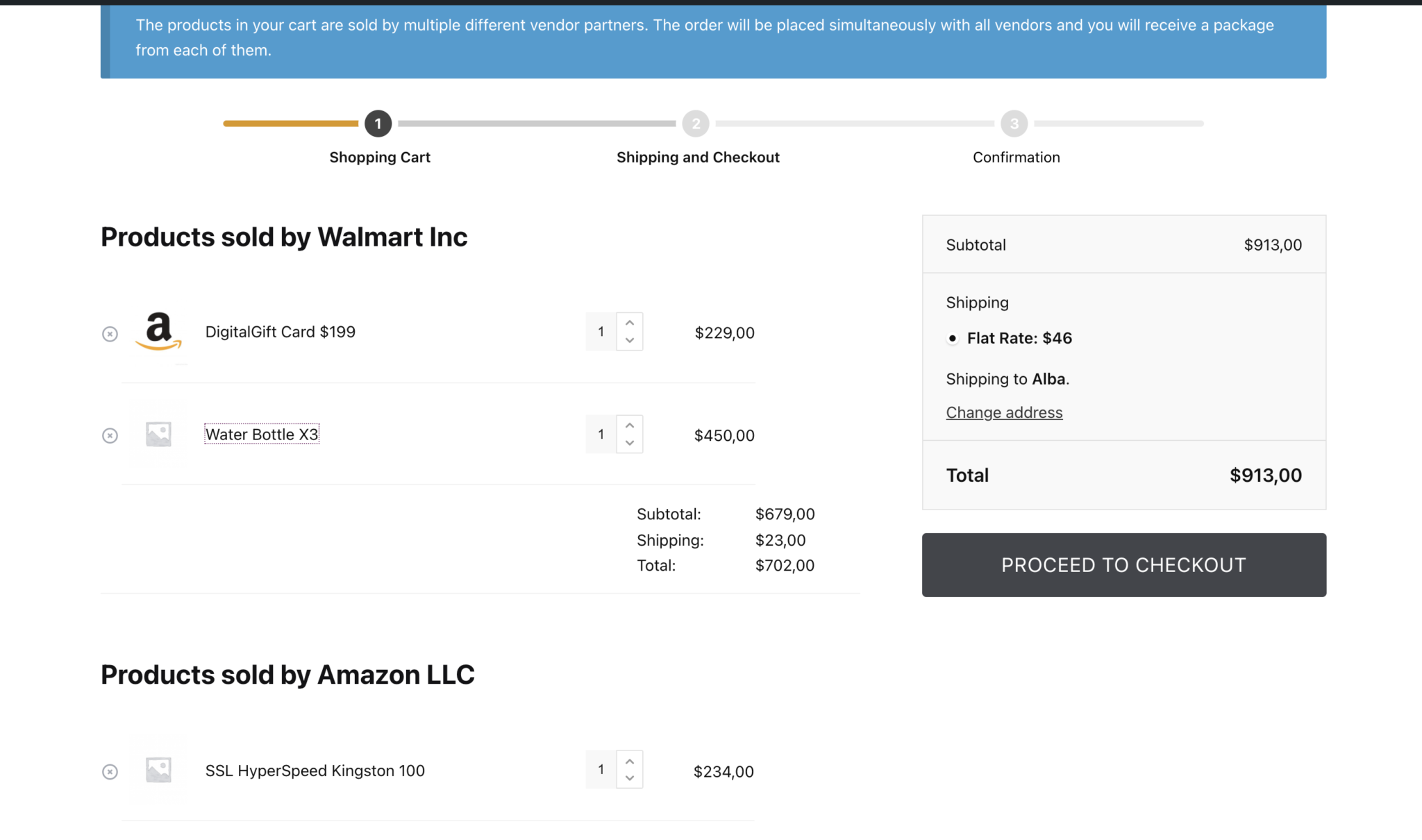 Order Splitter for Multi Vendor Orders
Customers can
order from multiple vendors
at the same time, and MarketKing will automatically split these orders into multiple sub-orders.
Each vendor has access to only their own specific sub-orders.
Customers pay for the combined order but can see the status of each individual sub-order.
Parent orders are excluded from analytics and reports so that reports and statistics are always accurate.
Fees, discounts, or coupons either go to their respective orders / products, or are proportionally split between orders.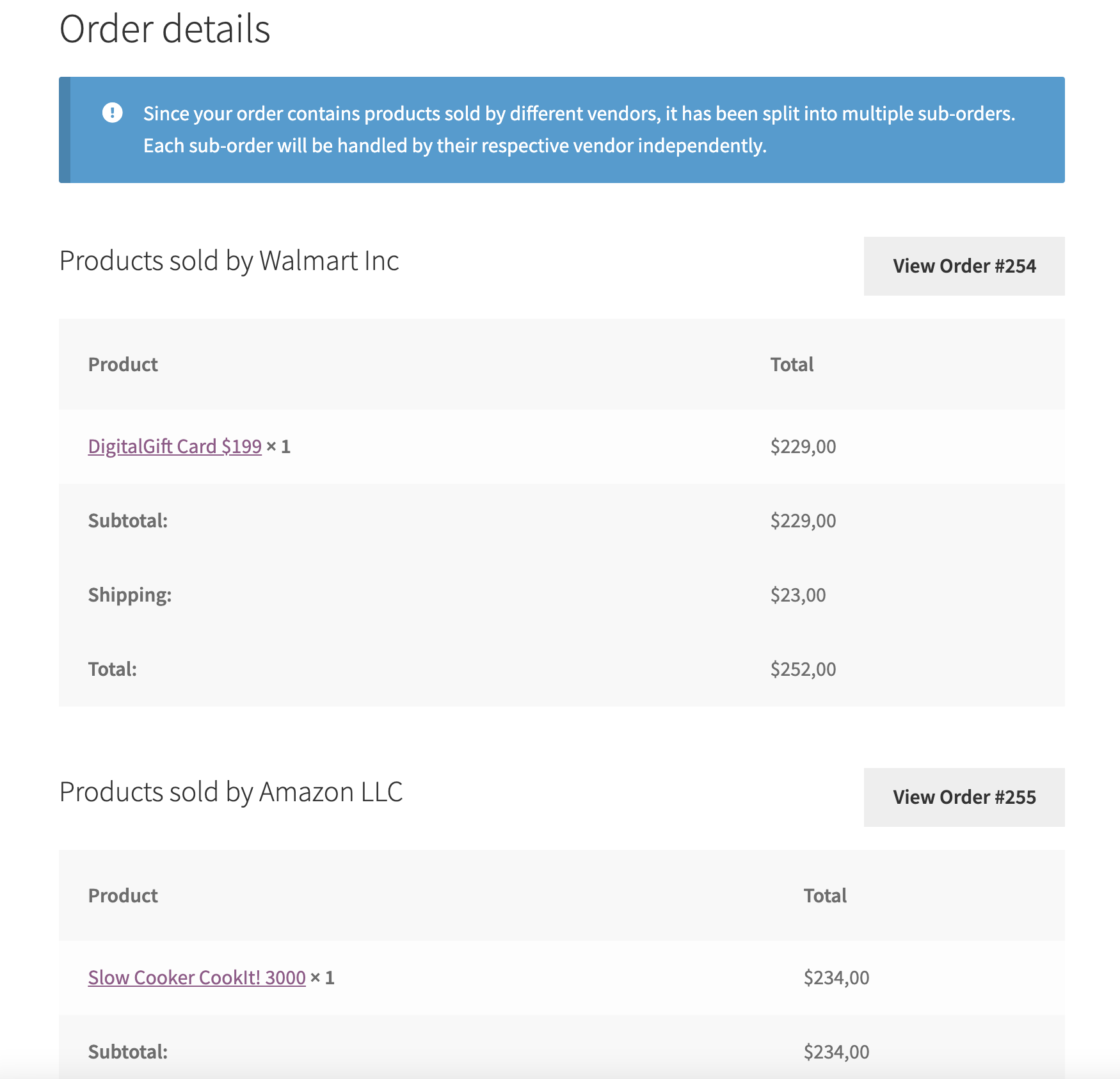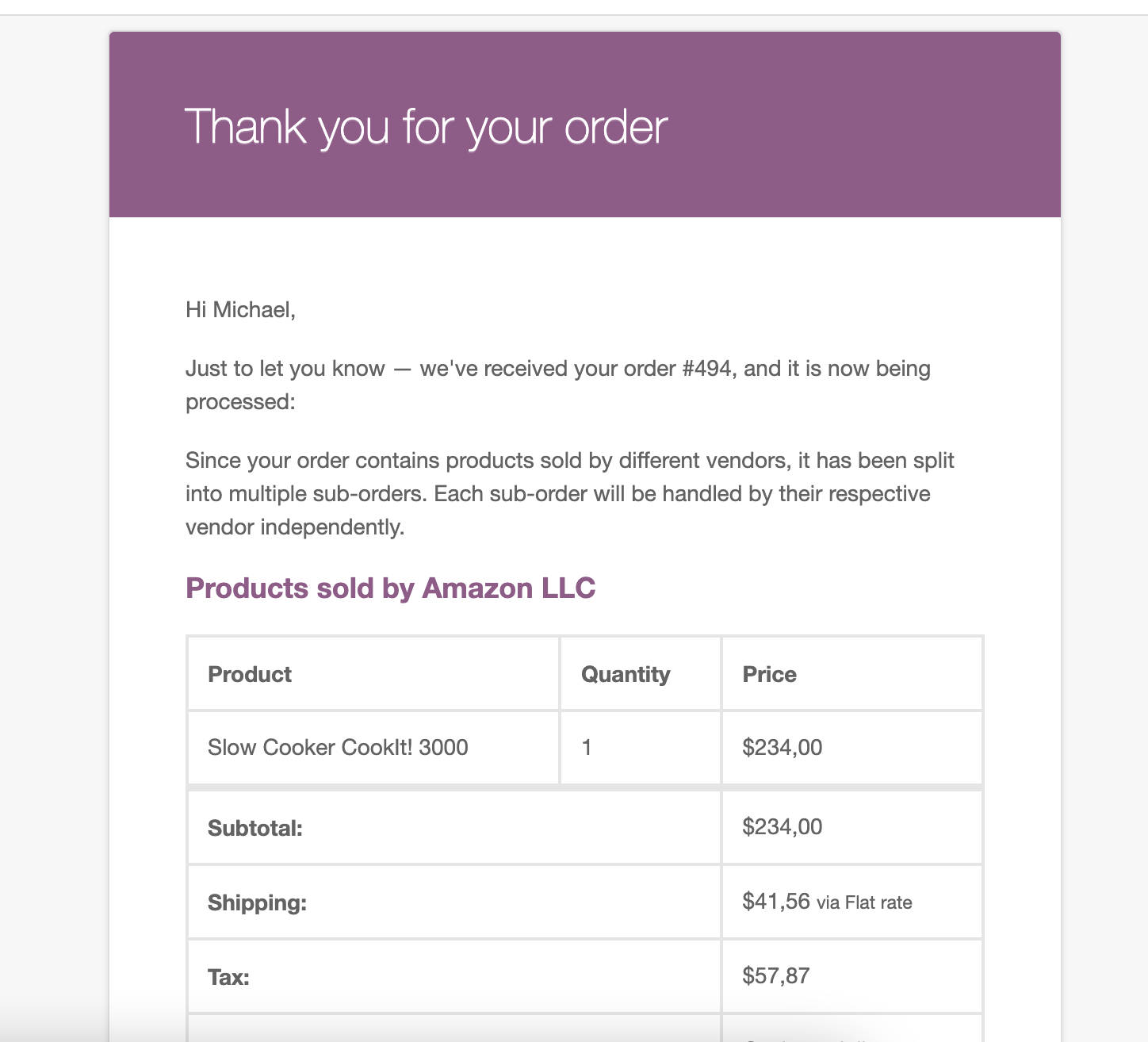 Complex Commission Options
Through
commission settings and options
, you can configure flat, percentage, or combined commissions based on vendor, category or tag. You can set different shipping and tax commission options, as well as multiple ways of treating Cash on Delivery orders (regular, ignored, or reversed).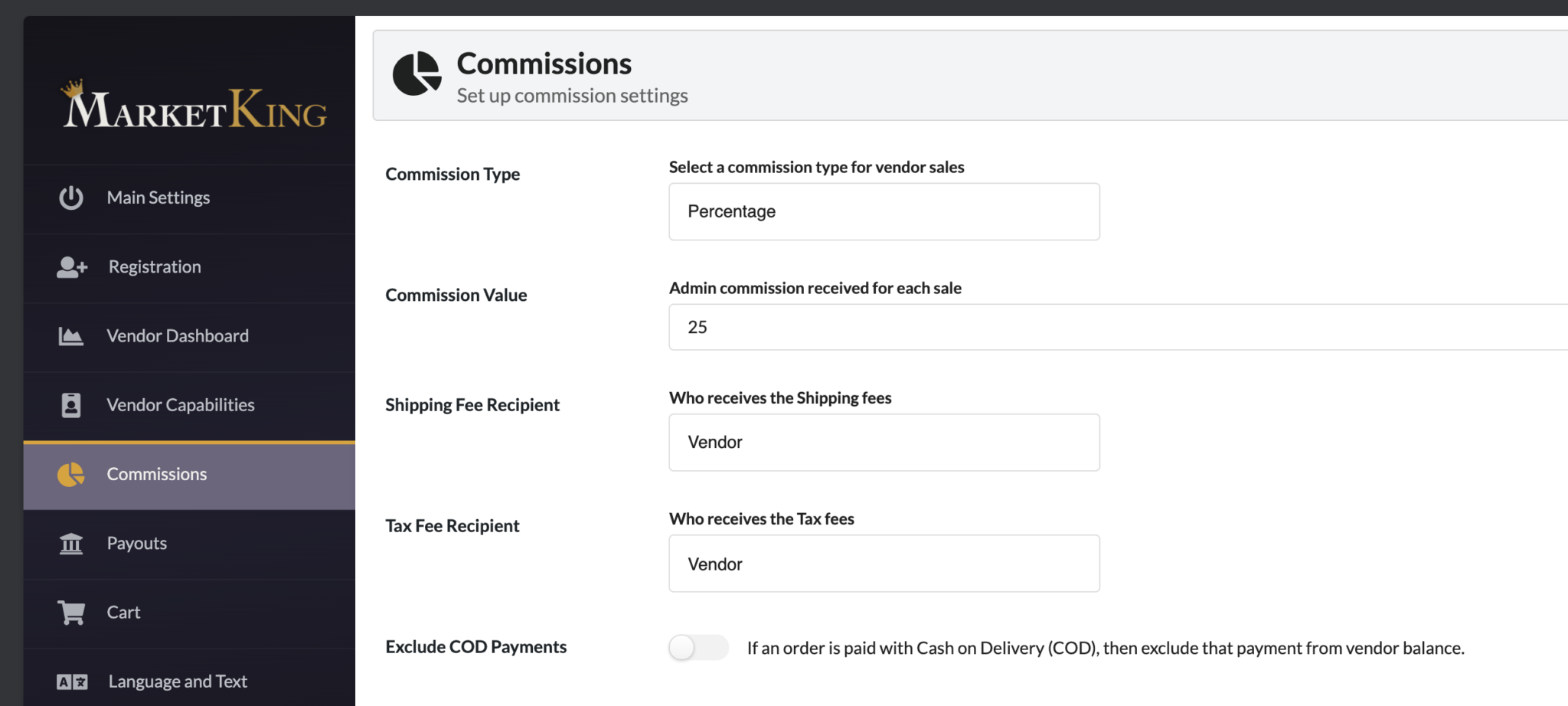 Color Scheme Customizer
Through the dashboard
color customizer
you can easily change the color scheme of the vendor dashboard. Dashboard logo can also be configured via settings.

137+ Features and Options
MarketKing comes with well over a hundred features, as well 25+ optional and configurable modules. There are many other features, options and integrations:
Fully translatable to any language - Compatible with translation plugins such Loco Translate and WPML
Can use hundreds of WooCommerce payment gateways
Email Notifications for announcements, messages, payouts, ratings, vendor account approval, refunds, verifications, etc.
Digital Marketplace Ready - Vendors can sell downloadable digital items that customers securely download
If you're looking for a specific option or feature, get in touch with us.





Frequently Asked Questions - Pre Sales

Is there support if I run into any issue?
Of course! We have a dedicated support center and we aim to respond to all tickets within 24 hours or less during business days. Our WebWizards 4.97 star review average highlights our commitment to fast, actually helpful, in-depth support.

We consider technical problems our responsibility. We address every single issue reported to us, and go in-depth to debug and troubleshoot problems, including testing directly in customers' sites. Can I try MarketKing before purchase? Can I get a trial?
Since this is a downloadable product you receive the full code for after purchase (unlike SaaS solutions), we can't provide a trial. We do have a full live demo that you can test both backend and frontend. There is also a free version of the plugin (limited functionality) available on Wordpress.org.

Changelog

For details on plugin versions and updates, see changelog.